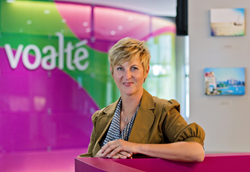 I'm proud to play a role in this game-changing healthcare evolution, said Kenda West.
SARASOTA, Fla (PRWEB) September 17, 2013
Voalte, the leader in clinical communication technology, today announced the hiring of Kenda West, an expert in health information technology and strategic business development, as the company's new Chief Operating Officer.
West comes to Voalte from Johns Hopkins Medicine, where she had strategic and operating IT responsibility as Chief Information Officer for the Community Division. West also held IT leadership positions at MedStar Health in Washington, D.C., and Peninsula Regional Medical Center in Salisbury, Maryland. Prior to those positions, she was Director of Corporate Strategic Planning and Business Development at McKesson. West was also a Consulting Associate with Booz Allen & Hamilton, Washington, D.C., where she supported government healthcare initiatives.
Voalte specializes in mobile smartphone applications that hospital caregivers use to receive alarms and communicate via voice and text. Voalte technologies enable greater care coordination and make it possible for caregivers to spend more time with patients.
"We're excited to have Kenda's experience, expertise and vision to help lead the growth of Voalte," said Trey Lauderdale, Voalte Founder and President. "Whether overseeing a 'big bang' electronic medical records implementation at two Johns Hopkins hospitals on the same day or building a specialty pharmaceutical business unit at McKesson, Kenda's career achievements are remarkable. She is a perfect fit for a company that is changing the way healthcare providers communicate."
West said, "Voalte has so many incredible opportunities to make a difference in one of the most critical parts of healthcare – caregiver communication. As Voalte continues to make that process easier, faster and safer, we can continue to make a significant contribution to a complex healthcare landscape. I'm proud to play a role in this game-changing healthcare evolution."
About Voalte
Voalte is the only company to provide a fully integrated and dependable clinical communication system that healthcare professionals want, enjoy and effectively use. Voalte products are designed to be intuitive, high-value, mission-critical applications running on the latest generation of touch-based smartphones. For more information, visit http://www.Voalte.com or call 941.312.2830.