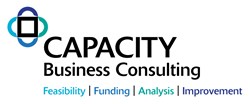 CBC uses a much sounder objective method based in research and data to deliver solutions to business issues.
Montgomery, NY (PRWEB) September 19, 2013
Capacity will celebrate this award at the Chamber's Annual Meeting and Awards Reception on Thursday, October 24 at Anthony's Pier 9, New Windsor. The event will be held from 5:30 to 8:00 p.m. with Hors D'oeuvres and Cash Bar from 5:30 to 6:45 p.m. and Dessert, Program, and Awards presentation from 7:00 to 8:00 p.m.
Capacity was nominated by DesignWorks NY, LLC, a local integrated marketing communications and graphic design firm who is also an Orange County Chamber member. A portion of the nomination is below:
Eric founded CBC to remedy the archaic method by which most companies go about solving business issues: executives are called into a room to "brainstorm" and leadership typically goes with the solution proposed by the loudest or most experienced manager. CBC shows businesses how faulty these subjective opinions and experiences can be, and uses a much sounder objective method based in research and data to deliver solutions to business issues.
There are 5 reasons why CBC is deserving of the Orange County Chamber Small Business of the Year:
VISION
CBC leader Eric Egeland sees the potential of businesses to succeed right in his own backyard, and had the vision to refocus his efforts in this region. He is committed to this community and to providing local businesses with the tools they need to grow and sustain. He makes decisions on long-term goals, not short term needs, and believes in the economic vitality of this region, carefully building his company to last.
INSPIRATION
Eric leads CBC by example, providing motivation and an inspiration not only to his staff, but also to members of our business community. With his active involvement in the Orange County Chamber, and his commitment to networking and sharing contacts and leads, he is often the stimulus for opportunity and connection.
POSITIVE ATTITUDE
While it may seem odd to cite this attribute as a reason to be deserving of this award, a positive attitude is contagious and keeps energy levels up, both inside and outside of a company. Despite the somewhat difficult economic climate, CBC continues to see the glass as "half full" which encourages confidence and success in other businesses – both large and small – in our community.
INTEGRITY
A cornerstone of their brand, CBC lives integrity by understanding the importance of honesty and reliability in business. Their methodology provides the arena to be truthful and objective to businesses that are often unknowingly submerged in subjective and biased thinking. CBC delivers truth with sensitivity, which is key to adoption of change. Honesty is truly the best policy.
IMPACT
CBC's and its leader, Eric Egeland, have made a measureable impact on the business community, not only by their contribution to the most recent OC Chamber membership drive, but by their steadfast commitment to do whatever it takes to help businesses succeed. From networking connections to business referrals to education — formal or informal — CBC is a brilliant example of a successful small business in the Hudson Valley.
About Capacity Business Consulting
Capacity Business Consulting's broad array of services includes feasibility studies, funding preparation, issue analysis, improvement, strategy, sales, etc. for small- to medium-sized businesses and startups in any industry. For more information, visit
http://www.CapacityBusinessConsulting.com
845.764-9484
info(at)CapacityConsultingInc(dot)com.