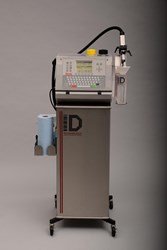 Fort Worth, TX (PRWEB) September 16, 2013
ID Technology has introduced a new workstation for the Citronix ciSeries of CIJ inkjet printers. The sturdy stainless steel stand has a small footprint for easy integration into production lines and is ergonomically designed to facilitate easy viewing of the display, convenient data entry and access to the printer. The printer and stand can then be placed next to a production line for sturdy support during operation. An optional caster set allows for the workstation to be easily moved out of the way for wash down routines or to be relocated to another production line.
The optional printhead service station simplifies maintenance routines by providing stable mounting for the printhead at an angle for easy cleaning and servicing. For added convenience a caddy can be added to hold wash bottles, gloves and shop towels. For controlled shut down in the event of power loss a UPS can be housed inside the cabinet of the workstation.
About ID Technology
ID Technology, powered by Pro Mach, designs, manufactures, and integrates high quality, custom labeling, coding and marking equipment, peripherals, and supplies. Fort Worth-based ID Technology is one of North America's largest and most trusted single-source providers for labeling equipment, expertise, service and supplies with 18 regional offices across the United States and Canada. For more information or to locate one of the ID Technology nationwide sales and service centers, call 888-438-3242 or visit http://www.IDTechnology.com.
About Pro Mach
Pro Mach is a leading provider of integrated packaging products and solutions for food, beverage, household goods, pharmaceutical, and other diverse consumer and industrial companies. Through multiple business units and related brands, Pro Mach provides equipment, installation, training, parts, and service in primary and secondary packaging, flexible packaging, end-of-line packaging, material handling, and identification and tracking.
Pro Mach has a diverse customer base, from Fortune 500 companies to smaller, privately-held businesses worldwide, which depend on reliable, flexible, technologically advanced packaging equipment and integrated solution sets. Pro Mach is headquartered near Cincinnati, Ohio with manufacturing facilities and offices throughout the United States and Canada. For more information about Pro Mach, visit our website at http://www.ProMachInc.com.