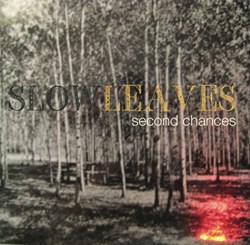 Winnipeg, Manitoba (PRWEB) September 18, 2013
When Grant Davidson and Rusty Matyas (Imaginary Cities) met as near strangers in a downtown Winnipeg jam space, the potential of their collaboration was instantly obvious. With Davidson's songwriting, rooted deep in folk and Americana and Matyas' keen sense of pop harmony and arrangement, they stumbled on that subtle and elusive quality that anchors all great records: the capture of a special moment in time.
The results can be heard on the Slow Leaves EP, Second Chances, set for release on October 8, 2013. The EP features 3 tracks from the sessions that produced a full album's worth of material (the forthcoming Beauty Is So Common has no release date as of yet). October will also see the release of the music video for the single Life Of A Better Man as well as a western Canada Tour.
Winnipeg, Manitoba born and raised, Davidson spent time on the coffeehouse circuit before recording a lo-fi solo record, Freestyle Walking (2006), which saw a limited release. He later assembled a band for his first official release, the hard-luck roots record Tired Limbs for Ashes (2009). "It was around this time that I started really listening to old country records: The Carter Family, Hank Williams, 70's outlaw country like Jerry Jeff Walker and Billy Joe Shaver... so that sound really crept into the making of that album."
His next release, 2011's Dust and Violets, saw Davidson expanding on the "roots" format, writing songs of a more personal lyrical nature with a clear focus towards a sound and style uniquely his own. The album showcases a beautifully understated approach that focuses the listener on the words. During this time, Grant's songwriting was subtly incorporating influences of such other genre defying songwriters as Mickey Newbury, Gene Clark and Todd Snider. "There's an incredible honesty and emotional power in their songs and lyrics that gave me the courage to draw from further within when writing my own lyrics", he explains.
Looking to bring fresh ears to the making of his next project, Davidson, on a whim sent a letter to a stranger, Rusty Matyas of Imaginary Cities. Impressed by the production choices on the Imaginary Cities debut album, Davidson detailed why Rusty should be involved in the production of his next album. A quick response lead to a tentative meeting where the first demos were cut. The seeds of what was to become Slow Leaves had been sewn.
With Slow Leaves, Davidson continues to write concise songs that spare nothing in creating vivid images and heartfelt connections: the culmination of where he's been and where he's going.
For more information on Slow Leaves, visit: http://www.slowleaves.com
Physical and digital versions of the Second Chances EP are available upon request. Grant is available for interviews.