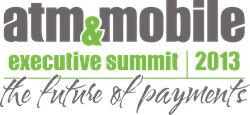 Louisville, KY (PRWEB) September 16, 2013
In a special session at this month's ATM & Mobile Executive Summit, experts will discuss the implications of a controversial recent ruling, and what it will mean to the financial services and payments industries.
When U.S. District Court Judge Richard Leon threw out the Fed's 21 cent cap on debit card surcharge fees, saying that Congress had something lower in mind, he set the entire payments industry on its ear. Even players unaffected by surcharge fees were dismayed by the second part of the ruling, which held that the Fed also failed to meet legislators' intentions with its debit routing solution (Civil Case No. 11-02075 (RJL). This bad news came just as the payments industry was finally sorting out a solution for transaction routing for EMV chip cards under Durbin amendment rules.
Now everything is uncertain: Will revised routing rules allow for a common application identifier for chip card transactions? In light of the court ruling, how will acquirers and processors meet the card brands' liability shift deadlines? How will banks compensate for a further drop in fee income? How long will the Fed's appeal take? What happens to surcharge fees in the meantime? If the ruling stands, will banks have to compensate retailers for fee overages? This special session will address these and a host of other questions arising from the judge's decision.
The expert panel for the session includes Lee Manfred, partner with First Annapolis Consulting. Manfred directed First Annapolis' industry-leading analysis and interpretation of the Durbin Amendment to the Dodd-Frank Act, and worked extensively with clients developing strategies for the post-Durbin environment. Also on the panel is Crystal Kaldjob, an associate in Goodwin Procter's Business Law Department and a member of its Consumer Financial Services and Banking Practices, where she represents banks on regulatory and compliance matters.
The ATM & Mobile Executive Summit is a one-of-a-kind event that gives unprecedented access to experts in ATMs and mobile payments, as well as government officials, bank executives, regulators, security experts and other industry insiders. The event takes place September 25-26 at The Madison Hotel in Washington, D.C. A complete list of speakers and topics can be found at the event website, http://atmandmobilesummit.com.
About Networld Media Group
Founded in 2000, Networld Media Group is a leading business-to-business (B2B) media communications company specializing in digital media, associations and events in the mobile, self-service, digital signage, retail, food service and financial services industries. Online properties include ATMmarketplace.com, DigitalSignageToday.com, FastCasual.com, KioskMarketplace.com, MobilePaymentsToday.com, PizzaMarketplace.com, QSRweb.com, RetailCustomerExperience.com, SelfServiceWorld.com and ChurchCentral.com. The company produces executive summits in the fast casual, retail, ATM and mobile payments industries. Its custom media division develops premium content and marketing services for associations such as the ATM Industry Association.
###