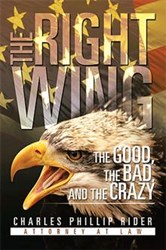 San Diego, CA (PRWEB) September 18, 2013
Have you ever wondered how the beliefs of the political right have progressed throughout history?
The Right Wing: The Good, The Bad and the Crazy by Charles Rider follows the historical timeline of the political right in the United States from Prohibition to the present. Rider traces the progression and political impact of the conservative right from Prohibition to the present from an attorney's perspective, showing readers a different viewpoint on many of the current hot button issues in America today.
Besides tracing these events from the perspective of an attorney, Rider also grew up in a conservative right religious household, so he has an insider's perspective on many of these events and political views.
This book is a behind-the-scenes look at the genesis of the conservative right as Americans know them today and a must-read for those who are interested in American political history.
"My book exposes the disingenuous right wing political positions that have hurt the middle class and the poor in the United States," said Rider. "The book contains facts about the political right not generally known by readers."
The Right Wing: the Good, the Bad and the Crazy
By Charles Rider
ISBN: 978-1-4836-3089-2
Softcover retail price: $17.99
E-book price: $3.99
About the author
Charles Rider taught music in schools for 28 years and was a teacher's union chapter president. He went on later to acquire a law degree and practiced law in the Public Defender's Office for 17 years. After leaving the Public Defender's Office, he practiced criminal defense and immigration law.
Available at http://www.amazon.com, http://www.bn.com, and http://www.xlibirs.com.