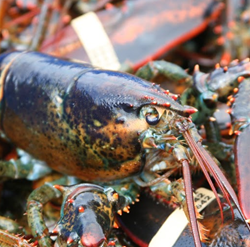 We broker deals to lock in quality pricing year-round so our customers see the savings even when prices increase.
(PRWEB) September 17, 2013
As oceans are warming up due to unseasonably warm winter weather, lobster larvae are growing at a much faster rate, resulting in an oversupply of Maine lobster available to consumers. According to the Maine Department of Marine Resources, the volume of Maine's lobster yield has increased rapidly from roughly 28 million pounds in 1990 to 126 million pounds in 2012, resulting in Maine lobstermen receiving a much lower price per pound for their daily catch.
Even with the lower prices that lobstermen are receiving, many consumers throughout the United States will not see much of a savings because of high cost of shipping live Maine lobsters, especially with lobsters that have softer shells. GetMaineLobster.com, however, has worked closely with FedEx and Periship to ensure live Maine lobsters are delivered safely overnight, anywhere within the continental United States.
"When supply is as high as it has been in recent months, we push our brokers to provide us with significant deals that allow us to pass on the savings to our customers," says Mark Murrell, founder and CEO of GetMaineLobster.com. "We broker deals to lock in quality pricing year-round so our customers see the savings even when prices increase."
As GetMaineLobster.com operates a seasonal business 365 days a year, the Maine lobster delivery service works hard to lock in consistent pricing in the wake of the oversupply. GetMaineLobster.com pays more than most retailers in order to get savings when supply is limited. Accordingly, the company gears its marketing based upon which lobster products are available at the best prices and are, therefore, able to offer more attractive deals to its customers.
To learn more about GetMaineLobster.com, go to GetMaineLobster.com or call (866) 562-4817.
About GetMaineLobster.com
GetMaineLobster.com, a division of Black Point Seafood and Black Point Gourmet, hand-selects the finest Maine lobster, seafood and beef products for convenient distribution throughout the United States. Their passion is to make fresh, quality seafood readily available to customers across the country, which is why they buy from only the most trusted, well-established suppliers to ensure that they receive the finest products available.
GetMaineLobster.com was selected out of the more than four million small American businesses served by Chase bank to represent its new Platinum Business Checking product for its 2013 national advertising campaign.