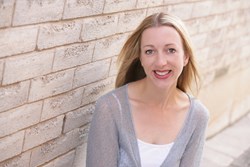 It is said that the largest minority in North America isn't one of nationality but of circumstance: people with special needs. Moms of special needs children are a huge and often overlooked opportunity for moms marketers.
Chicago, IL (PRWEB) September 17, 2013
Julie Cole, Co-Founder & Vice President of the popular Mabel's Labels and herself the mom of a special needs child will moderate a discussion of experts from brands who have succeeded in their strategies marketing to moms with special needs children at the 9th annual M2Moms® – Marketing to Moms Conference. M2Moms® will be held Oct. 23 & 24 in the Chicago Cultural Center. Cole will be joined by Nadine O. Vogel, Founder and President, Springboard Consulting LLC and Joanne M. Gruszkos, National Program Director, SpecialCare℠, MassMutual Financial Group.
"We'll show marketers how to reach and why to target moms of special needs," Cole explained. "Like other moms, moms of children with special needs still have to buy groceries, clothes, back to school items, birthday gifts for school friends, plus what they need for themselves, their spouse, the home and possibly their aging parents."
"So the question is does the mom of a special needs child have special needs of her own?" Cole asked. "When it comes to how she is marketed to and how she is treated at the point of sale, we think the answer is yes, she does. After all, it is said that the largest minority in North America isn't one of nationality but of circumstance: people with special needs. Moms of special needs children are a huge and often overlooked opportunity for moms marketers."
"This is the second or third time we've addressed this topic in the last nine years of M2Moms®. Every time we do the topic is one of the highest rated sessions. Given the size of the market that's not surprising. I'm sure it will once again be one of the most compelling sessions at this year's conference," said to Liz Fongemie, M2Moms® producer,
"It is precisely because of the incredible diversity of moms and their broad purchasing power that M2Moms® draws attendance from a truly diverse and comprehensive list of brands," Fongemie explained. "Companies that have sent executives and marketing teams include Microsoft, Kellogg's, Evenflo, IKEA, Mead Johnson, GM, Allstate, Heinz, Symantec, Hasbro, BBC, NBA, Procter & Gamble, Wyeth, Coca-Cola and hundreds more.
"They all recognize that marketing to moms is critical to continued brand growth and market share," according to Fongemie. "Moms really are brand-critical decision makers for a broad range of products and services. The Fast Facts page on M2Moms® website is filled with statistics that show that moms buy everything from sports drinks to prom dresses, diapers to dog food, lipstick to laptops, autos to pharmaceuticals. They buy for their kids, their families, their parents, their friends and for themselves. They buy for their homes, for their kids' schools, and they plan and pay for the family vacation. Plus, they purchase on every available channel online and off, traditional and new media – they use it all."
"With new research, case studies, workshops, peer-to-peer learning and networking, M2Moms® delivers everything every marketer needs to reach mom on the wide variety of channels moms use to gather and pass along information and purchase," according to Fongemie. "This year M2Moms® includes over 30 speakers and two and half content-rich days all designed to help marketers improve their marketing and sales to today's moms."
"We have substantially expanded the pre-conference sessions for those who arrive early," Fongemie added. "PTPA, Blissful Media, Text4baby and the Sway Group's workshops will focus on reaching moms through digital, social and mobile media. In the past all of our pre-con sessions have been standing room only."
"In addition to the pre-con sessions, we're especially excited about this year's lineup which features the premiere of GfK's "Moms Research Report", WebMD's insight into what today's moms are looking for in health, and an especially intriguing case study from Ketchum about the power of storytelling for challenger brands. We'll also have new research about the life stages of motherhood presented by Sandy Wax, President and G.M. of Sprout, and a marketing to new moms session from Eric Mower+Associates," Fongemie said. "Plus, the editorial team from The Bump will show marketers what really works to reach today's moms. House Party will present a compelling brand advocate case study with Hasbro. In addition, we've got a great case study from Mattel, and we're very happy to welcome back Destination Maternity's Zanny Oltman, 2012's "You Take The Cake" Best Speaker, to rock the house again!"
M2Moms® sponsors include Title Sponsor: Sprout; Associate Sponsors: GfK, Mom Central Consulting, House Party, Ketchum, Destination Maternity, WebMD, Mabel's Labels, WhatToExpect.com, Meredith Parents Network, Conill, FleishmanHillard, The Motherhood, Mattel; Showcase Sponsors: GGP, School Family Media, Kids & Company, Moms Meet, PMP, Teen Life; Workshop Sponsors: The Marketing Store Worldwide, The Bump, Child's Play Communications, Eric Mower+Associates, Robin Leedy & Associates, Sway Group, PTPA Media, Experian, Blissful Media Group; Video Content Resource: Snippies; News Resource: M2Moms® News. M2Moms® 2013 proudly supports Text4baby.
For M2Moms® information: http://www.m2moms.com or 860.724.2649 x11. M2Moms® is produced by PME® Enterprises LLC, 912 Silas Deane Hwy., Suite 101, Wethersfield, CT 06109.