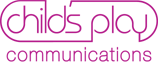 New York, NY (PRWEB) September 18, 2013
Are Dads the "New Black?"
That's the topic to be presented by Child's Play Communications president, Stephanie Azzarone, at the 9th Annual M2Moms: The Marketing to Moms Conference in Chicago, October 23-24. Azzarone's workshop will look at the role dad plays – or doesn't -- in household purchasing decisions today. The M2Moms event marks the debut of findings from Child's Play Communications' fall 2013 research and will give marketers new insights into how moms and dads are divvying up the responsibility of buying for the family.
Child's Play Communications specializes in connecting companies with moms – and dads – through public relations, social media, word-of-mouth and online marketing. The company is celebrating its 25th anniversary in 2013.
"Just as navy became 'the new black' of the fashion word, dads are becoming the hot new thing in marketing to parents," said Azzarone. "Based on previous research – all of which has been done with dads, and not moms – marketers have been automatically assuming that dads are now major players when it comes to household purchasing decisions."
This however, was contradicted by comments from Child's Play Communications' expansive network of moms, including bloggers, who often noted their partners' lack of involvement in certain household chores, such as shopping and cooking. This feedback led Child's Play to survey 1,000 couples – moms AND dads -- across the U.S.
"Dads are involved – but not to the degree that many companies now think and not in some key purchase categories," said Azzarone. "The goal of this research was to understand who was making decisions about what, for everything from toys to cleaning supplies. Our findings may have a significant impact on how brands market to moms and dads," said Azzarone.
The M2Moms Conference is the premier national marketing conference designed to help businesses learn how to increase their emotional, cognitive and financial share of the influential mom market. More information about the M2Moms event and Azzarone's presentation is available at http://www.m2moms.com/speakers.php#Azzarone.
For more information on Stephanie Azzarone and Child's Play Communications, visit http://www.childsplaypr.com.
Child's Play Communications
Celebrating its 25th Anniversary in 2013, Child's Play Communications is the leading agency specializing in public relations, social media, word-of-mouth communications and online marketing for products and services targeted to moms. Clients have included brand leaders such as Disney, Warner Bros., Heinz, Hewlett Packard, Wildlife Conservation Society, Hasbro and Parents magazine. Based in New York City, the award-winning agency offers an exciting array of proprietary services to engage this influential market through traditional media, online and in-person, including Team Mom™, the company's own network of mom review-bloggers. For additional information, please visit our Web site, like us on Facebook, or follow us on Twitter or Pinterest.