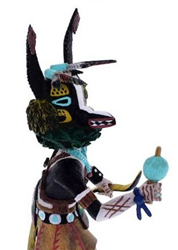 Kachina dolls are popular gifts due to their uniqueness and value as collectable items.
(PRWEB) September 20, 2013
The recent popularity of Navajo Kachina dolls is undeniable. Collectors from across the country have been scurrying to scoop up the many unique styles of dolls being offered by artists. Serious collectors and novices both experience a difficult time tracking down sources that provide authentic Navajo Kachina dolls to the public.
One website is making it easy to browse a wide variety of authentic dolls by providing the merchandise directly to customers. The site provides a mix of commerce and education regarding Native American crafts.
"Each Kachina doll we sell is signed and numbered to guarantee authenticity," said Kachina-Dolls.com spokesperson David Stentson. "We take immense pride in every single item we offer."
The dolls featured on the website are crafted by hand by expert artisans. Each doll consists of authentic natural materials like fur, feathers, and real leather. There is a rich assortment of figurines that represent deep spiritual and cultural aspects of Native American culture.
The website takes the hard work out of tracking down Navajo Kachina dolls. Collectors typically spend a lot of time visiting galleries around the country in order to gain access to a collection of available dolls as robust as the one featured on kachina-dolls.com. "We are a collector's dream," noted Stentson.
The dolls are popular gifts due to their uniqueness and value as collectable items. It is important to be able to present the recipient of a new doll with a certification of authenticity like the one provided by kachina-dolls.com in order for the gift to have maximum impact. "You want a person to be able to hold up one of our dolls and know that it was made with pride and with the best possible materials," Stentson was quick to point out. "Imitations need not apply."
Stentson made it clear that customers are always welcome to contact the website directly using the contact page if they have any questions regarding a specific item.
For more information about Navajo Kachina dolls, please visit Kachina-Dolls.com.