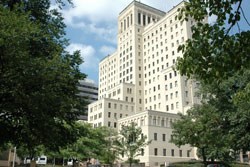 "Allegheny Sports Medicine is a world-class healthcare provider with a notable track record of success in managing the sports medicine needs of athletes at all levels," said Dr. Craig Coleman, RMU. .
Pittsburgh, PA (PRWEB) September 17, 2013
Allegheny Health Network and Robert Morris University (RMU) today announced a new partnership that establishes Allegheny Sports Medicine, the sports medicine division of Allegheny General Hospital (AGH), as the exclusive healthcare provider for the University's athletic programs.
The five-year agreement between the two organizations provides RMU's student athletes, coaches and support staff with access to Allegheny Sports Medicine's nationally recognized team of physicians, athletic trainers and rehabilitation specialists for the prevention and management of sports related injuries.
RMU is home to 23 NCAA Division I intercollegiate athletic teams, including the only men's and women's Division I ice hockey squads in the Pittsburgh region and the only Division I men's lacrosse team between Columbus and State College. Nearly 600 student-athletes compete in the University's athletic program each year.
Since 1990, RMU has claimed 38 Northeast Conference regular-season championships and 38 league tournament titles, including seven regular-season titles in volleyball, seven NEC Tournament championships in basketball and six in football - the most of any conference team.
According to RMU Athletic Director Craig Coleman, MD, the success of any athletic program, particularly those competing at the highest level of college sports, often depends on the ability of its athletes to stay healthy and recover well when an injury occurs. He said RMU is excited to affiliate with one of the country's foremost sports medicine programs to ensure its athletes are in the best medical hands.
"Robert Morris has a long history of outstanding athletic achievements and we are deeply committed to the health and well-being of the student athletes who give so much of themselves to make the University proud. Allegheny Sports Medicine is a world-class healthcare provider with a notable track record of success in managing the sports medicine needs of athletes at all levels," Coleman said.
Allegheny Sports Medicine's multi-disciplinary team of orthopaedic surgeons, primary care sports medicine physicians, athletic trainers and physical therapists specialize in the assessment and treatment of complex athletic injuries to the musculoskeletal system, with a special focus on hand, shoulder, elbow, knee and foot injuries.
The sports medicine program features a regional network of 14 Orthopaedic & Rehabilitation Centers that are conveniently located throughout the greater Pittsburgh region.
Additionally, AGH's Sports Concussion Clinic provides athletes who have suffered a head injury during competition access to an experienced team of neurologists, sports medicine physicians and athletic trainers who specialize in concussion evaluation and treatment.
As the official medical provider of the Pittsburgh Pirates baseball club, Allegheny Sports Medicine has been recognized by Major League Baseball for having the best medical staff in the game. Allegheny Sports Medicine is also the official medical provider of the Pittsburgh Riverhounds soccer team, the sports medicine sponsor for the PGA TOUR and the exclusive provider of medical services for 18 Pittsburgh-area high schools.
Patrick DeMeo, MD, Professor and Chair, Department of Orthopaedics, Allegheny Health Network and Medical Director, Pittsburgh Pirates Baseball Organization, said his medical team is thrilled to add RMU to its growing family of covered athletic programs.
"In a region that is widely recognized and celebrated for its excellent high-school, college and professional sports programs, Robert Morris University has contributed significantly to that reputation. The consistently high caliber of RMU's athletic programs and the long list of championships they have produced are incredibly impressive. We look forward to becoming part of that tradition and to playing a role in the University's future success," said Dr. DeMeo.
At RMU, Allegheny Sports Medicine will provide a comprehensive array of sports medicine services, including:

Prompt and convenient access to orthopaedic/sports medicine physicians, including AGH's Sports Concussion Center.
Two physician led injury clinics per week to evaluate injuries and direct treatment.
On-site pre-participation physical exams for all University athletes.
Physician presence at all home football, hockey, basketball and lacrosse games.
A licensed athletic trainer for rehabilitation purposes and concussion base-line testing.
"Allegheny Sports Medicine offers injured athletes a full spectrum of advanced diagnostic and treatment capabilities. Our primary goals are to help athletes avoid injuries by guiding them through proper training and conditioning practices and to get them back on the field, ice or court as quickly, safely and effectively as possible after an injury," said Edward Snell, MD, Director of AGH's Primary Care Sports Medicine Fellowship and Director of the Hospital's Sports Concussion Clinic.
Dr. Snell also serves as head team physician for the Pittsburgh Pirates, on Major League Baseball's concussion committee and on the sports advisory board for the Pennsylvania Interscholastic Athletic Association.
###