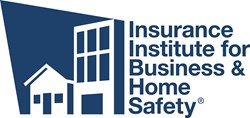 Tampa, FL (PRWEB) September 16, 2013
The Insurance Institute for Business & Home Safety (IBHS) is proud to join in the 10th Annual National Preparedness Month, sponsored by the Department of Homeland Security's (DHS) Ready Campaign.
"The time to prepare for all kinds of disasters – whether that means severe weather events or man-made catastrophes – is before they strike. Home and business owners who have plans in place well in advance of a large-scale or an individual-level disaster striking are much more likely to make it through the event and to recover more quickly," said Julie Rochman, IBHS president and CEO.
National Preparedness Month is a nationwide effort to increase awareness and encourage individuals and communities to prepare for emergencies. This year's theme, "YOU Can Be the Hero," encourages all Americans to take an active part in preparing and planning for disasters and emergencies.
Knowing which natural disasters affect your area is the first step in being prepared. IBHS offers an easy-to-use ZIP code tool that can determine which areas in the country are at risk for hurricanes, wildfire, floods, hailstorms, and severe winter weather, found at DisasterSafety.org. Just enter a ZIP code to learn about severe weather risks for any location. The tool also offers free disaster preparedness resources for those specific risks.
The next step in being prepared is creating a plan. Users of iPhone, iPad, or iTouch, can develop a plan for emergency situations with the Know Your Plan app, which includes IBHS disaster preparedness checklists for hurricanes, wildfires, tornadoes, earthquakes, and severe winter weather. The app also provides options for reminders to complete tasks, track progress, and customize and share checklists with social networks. Know Your Plan is available for free from iTunes, or by searching "Insurance Information Institute" in the App store from any iPhone.
IBHS also offers a free business continuity toolkit for small businesses to prepare for disasters large and small. OFB-EZ (Open for Business-EZ) is designed to be simple to use, administer and implement. This tool enables small businesses to follow the same disaster planning and recovery processes used by larger companies – but without a large company budget. OFB-EZ is user-friendly and does not require any previous experience with or knowledge of business continuity planning.
"Increasing your resilience against all types of disasters and emergencies requires you to know the risks you face, and to have a workable, current plan in place to protect those around you and your property," Rochman added. "On the 10th anniversary of National Preparedness Month, IBHS renews its commitment to work with DHS, the Ready Campaign and all disaster preparedness organizations to help home and business owners minimize their risk before disasters and recover, repair and rebuild safer and stronger after disasters."
About the Insurance Institute for Business & Home Safety (IBHS)
IBHS is an independent, nonprofit, scientific research and communications organization supported by the property insurance industry. The organization works to reduce the social and economic effects of natural disasters and other risks on residential and commercial property by conducting building science research and advocating improved construction, maintenance and preparedness practices.