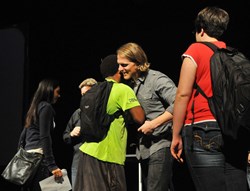 Plainview, TX (PRWEB) September 18, 2013
Mike Reis and his son, Chris, shared the stage in Harral Auditorium at Wayland Baptist University on Sept. 11, bringing their story of God's redeeming power and how a personal relationship with Jesus Christ influenced and saved their lives.
A former New Orleans Saint, Chris Reis recovered the onside kick to open the second half Super Bowl XLIV in 2010, giving the Saints momentum and propelling them to a 31-17 victory over the Indianapolis Colts. Mike was in the stands that day and was proud of the impact Chris had on the game. But while Chris' recovery was a great play, Mike was working toward a recovery of his own. Their story is chronicled in "Recover of a Lifetime," written by Mike and Chris Reis and Mike Yorkey. It is available on Amazon or at recoveryofalifetime.com. Information about booking Mike and Chris to speak at an event is also available at http://www.recoveryofalifetime.com.
While his life is filled with sensational details, Mike pointed out that his desire was not to glorify the wild, self-destructive lifestyle that he lived prior to accepting Jesus into his life.
"That was a deep, dark period in my life," Mike told the Wayland students. "I'm hoping that one of the things you'll get from us this morning is that you don't have to live through that. You don't have to get down in that deep dark pit in order to come back out. Through the power of God, you can do anything you want to accomplish."
Mike, whose father was abusive, had his first drink at age 7 when his grandfather took him to a neighborhood tavern in Chicago. His grandmother, with whom he spent much of his time as a young boy, sexually abused him.
"She trained me how to be a voyeur later in life," he said. "She trained me how to have a sex addiction."
Mike said he dealt with the sex and pornography addiction throughout his life. Alcohol was another addiction that controlled him. By the time he was in high school, he was drinking heavily. It was then that he met Chris' mother and they were married when he was 19. Extra marital affairs, alcohol and abuse led to a separation and divorce. Mike had met another woman in a bar and became involved with her. They were eventually married and had what he described as a 20-year-long drunken party.
"We did things … we led a deviant sexual lifestyle," he said.
Meanwhile, Chris was growing up at home, struggling with being the "perfect son" to atone for the dysfunctional relationship between his mother and older brother.
"Whatever my brother did, I did the opposite," Chris said. "I started building up this façade that I was perfect. I was doing the right things. But I was doing the right things for the wrong reasons."
The pressure to be perfect drove Chris to a breaking point. His mother had taken him to church regularly but he had never surrendered to Christ. As a 17-year-old high school student, Chris was facing his "perfect" demon as well as decisions about which college scholarship offer to choose. The stress was becoming too much. A bad day at practice weighed heavily on him, a perfectionist, as he drove home. It was then that he decided he couldn't carry on the façade any longer.
"I just started crying. I broke. I said, God I don't want to do this alone. I'm tired of trying to be perfect. I'm tired of trying to be this great son and trying to fix everybody's problems," Chris said. "(It was) the first time I ever remember praying an honest prayer where it wasn't about me."
Chris surrendered to Christ and through his four years at Georgia Tech, his faith grew. He was asked to be the president of the Fellowship of Christian Athletes as a freshman, a job for which he didn't feel qualified, but later understood that God was preparing him. Having a heavy heart for his father, Chris prayed every night for God to reveal himself to Mike, knowing that the only way he could influence his father was by example. In October of 2005, Chris invited Mike to an FCA event.
"What I saw were people (who) had love, (who) had peace, (who) were content," Mike said. "I knew that whatever it is, whatever it was that they had, I wanted some of that."
After the event Mike told Chris that he wanted to know more about Jesus. Over the next several months Chris and Mike spent hours talking about God and working their way through the Bible. Mike got involved in church and in a small group. But his walk had only begun.
"My moral compass had changed, but I held on to one thing. One thing I just wasn't willing to give up. I still decided that I could go ahead and drink as much as I wanted to," Mike said.
His decision and change of heart led to a divorce from his second wife. Still, Mike turned to alcohol and it wasn't until he was arrested for DUI two weeks after the Saints' Super Bowl win that he truly turned his life over to God.
"I said I was a Christian but I wasn't acting like a Christian. What I failed to do was totally surrender," Mike said. On Feb. 20, 2010, he totally surrendered. He gave up his final addiction and hasn't had a drink since.
Mike told the captive audience that he would love to say his life changed immediately and everything was perfect and everyone lived happily ever after, but that hasn't been the case. When his bosses found out about the DUI, he lost his corporate job, and family members refuse to believe that he has truly changed. But through it all, he and Chris have been able to use their story to spread the gospel.
"It's crazy to think how the decision I made at 17 years old could impact a family," Chris said. "It's not because of what I did, but because of what God did through me."