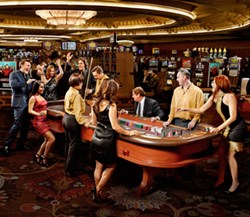 Bally has been an excellent technology partner...
Las Vegas, NV (PRWEB) September 18, 2013
Today, eConnect™ announced they are delivering the new Casino Connect™ Ratings Module to the Solaire Casino in the Philippines. This new integration will allow eConnect™ to harvest table-player ratings entries in real-time, giving Solaire an audit trail, allowing them to prevent fraud, ensure accuracy and validate the legitimacy of all ratings. Solaire selected eConnect™ due to their tight integration to the Bally ACSC- iSeries Casino and Slot Management System.
The eConnect™ ratings module provides ratings entry auditing combined with the casinos existing surveillance video giving casino operators a great tool to guard against unexpected financial losses. The modular nature of the eConnect™ software platform allows casino operators to secure other assets in F&B, Retail, Slots, Soft Count and virtually any transaction-centric business system with financial vulnerabilities.
"Bally has been an excellent technology partner during the integration process which makes it beneficial for Solaire," Commented, Travis Whidden- eConnects CTO.
eConnect™ will be showcasing the Ratings system in booth #3712 at the Gaming Expo which is being held at the Venetian Convention Center.
eConnect™ is a software company in the security industry which combines financial transactional analysis with visual verification. This is accomplished by synchronizing transactional data from point-of-sale (POS), casino systems and games to digital video surveillance, producing the best fraud deterrence tool in the industry. The software tool also increases the effectiveness of employee productivity, allowing managers to easily identify common employee errors. The software provides a dramatic return on investment usually within 3 to 6 months.