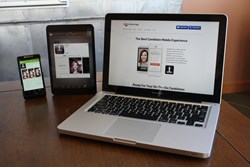 Our new apps make it even easier to engage candidates, reducing friction in your recruitment process and connecting you with top talent faster.
Milwaukee, WI (PRWEB) September 18, 2013
HarQen, an industry leader in video and phone interviewing recruitment technology, has released iOS and Android interview applications for Voice Advantage. The apps complement Voice Advantage's already accessible web-based platform to create a candidate experience second to none.
"The candidate experience is central to the Voice Advantage experience, so we strive to make our tool comfortable and familiar for job seekers. Expanding our mobile options was a natural step for us. This focus was a key reason we initially incorporated phone interviewing into our tool, allowing recruiting organizations to hear the candidate's true voice," said Ane Ohm, HarQen President and Chief Operating Officer.
Focusing on the candidate experience is one reason Voice Advantage has been a difference maker for its Fortune 500 clients. HarQen's research shows 40% of candidates interview outside of traditional business hours. By creating a solution that allows candidates to interview at their convenience, HarQen removes the challenge of scheduling from the recruitment process. These mobile options carry that flexibility even further.
"Our new apps make it even easier to engage job seekers, reducing friction in your recruitment process and connecting you with top talent faster," said Ohm. The mobile apps are available from the iTunes App Store and Google Play.
Voice Advantage's extended mobile capacity will be on display at the 16th Annual HR Technology Conference & Exposition (October 7-8, Mandalay Bay, Las Vegas) where HarQen will be appearing. "For 16 years, the sole purpose of the HR Technology® Conference has been to teach Human Resources leaders and practitioners how to get the business benefits from technology," says Co-Chair Bill Kutik, technology columnist for conference producer Human Resource Executive®. "The increasing awareness of how critical that is to HR is the reason the Conference has continued to grow in size and popularity." Attendees will be able to use the new technology first hand and see how the applications add to an already engaging candidate experience. HarQen's Director of Business Development, Payam Keyhantaj, and Business Development Manager, Chelsea Johnson, will be onsite to demonstrate the new apps and how Voice Advantage system improves total time to hire and retention rates.
About HarQen:
HarQen was founded in 2007 and powers the award-winning Voice Advantage tool for video and phone interviews. Voice Advantage's simple, mobile-friendly web interface allows job seekers to record interview responses at their convenience and allows recruiters to review candidates 10x faster, while eliminating scheduling hassles and courtesy interview headaches.