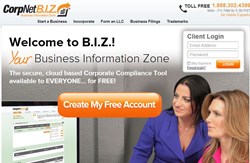 We help entrepreneurs form their businesses, and then work to be an important partner throughout the life cycle of the business.
Westlake Village, CA (PRWEB) September 17, 2013
CorpNet.com, a leading online business document filing company that helps entrepreneurs start a business and keep a business in compliance, published a video testimonial by Darren Kavinoky, an accomplished trial lawyer and well-known television host and legal analyst. In the video, Kavinoky explains why he's a "big fan" of CorpNet.com's new Business Information Zone (B.I.Z.) service.
"As an attorney and entrepreneur, I'm responsible for multiple businesses, multiple tax deadlines, and a bunch of corporate compliance filings. Keeping track of all those filings and deadlines would be a nightmare without CorpNet's B.I.Z.," said Kavinoky.
"The service keeps track of all my annual report and corporate compliance filings, for all my businesses. Any time I have an upcoming deadline, I get a reminder in my email and most of the time I can complete the filing online with just a couple of clicks," he added.
First launched in May 2013, CorpNet's B.I.Z. sends personalized email alerts for important tax and state filing deadlines. As a result, small business owners don't have to worry about missing due dates, paying late fees, or risking non-compliance by forgetting to file. You can access this business compliance service completely at no cost and it's available to any company, whether or not it was formed by CorpNet.
Kavinoky also noted that B.I.Z. securely holds all of his important corporate documents in the cloud. "If I ever need to show my tax ID or articles of incorporation to my banker, I can access them from my mobile device, from anywhere," he said.
According to CorpNet.com's CEO, Nellie Akalp, the new B.I.Z. service is a way for CorpNet to build stronger relationships with its clients. "We help entrepreneurs form their businesses, and then work to be an important partner throughout the life cycle of the business. Small business owners are always looking for shortcuts to simplify their business filing obligations and don't know where to start; that's where our B.I.Z. comes in…to simplify the business owners life by handling all of their compliance filing needs so that they can focus on what they do best: growing the business and constantly innovating as entrepreneurs."
Through CorpNet, Nellie and her husband Philip Akalp have empowered thousands of entrepreneurs to start their own business. As an online legal document filing service, CorpNet helps small business owners form an LLC or incorporate a business in order to start and protect their new business ventures the right way.
Darren Kavinoky is an accomplished trial lawyer and well-known television host and legal analyst. He is the creator and host of the television show Deadly Sins, which airs on Investigation Discovery. Kavinoky provides expert insight on entertainment, legal, political and lifestyle issues on many national and local broadcasts including, The Today Show, CNN, Larry King Live, Dr. Phil, Good Morning America, HLN, and Fox & Friends.
CorpNet.com is known for its customer-centric philosophy, developing a range of free, value-add tools to help small business owners thrive in today's economy. CorpNet customers rave about the company's friendly, helpful service, including five-star CorpNet reviews on TrustLink.
A video testimonial of Darren Kavinoky's experience with CorpNet's B.I.Z. can be viewed here: http://www.youtube.com/watch?v=MopAZKXVK-Q&feature=youtu.be
About CorpNet.com
CorpNet.com is an online business document filing service that provides new and existing business owners with the most comprehensive, cost-effective services when it comes to starting, protecting, and managing a business. Through its website, CorpNet.com provides business filing services required for a variety of business needs such as: incorporate online or form a Limited Liability Company (LLC), file a DBA, Doing Business in Multiple States (Foreign Qualifications), close a business (Dissolutions), Registered Agent Representations, Trademark Search and Registrations, and Corporate Compliance services and supplies for all 50 states.
Founded by experienced entrepreneur/attorney husband and wife team, Philip and Nellie Akalp, CorpNet.com is a private company based in Westlake Village, CA. For more information, please visit http://www.corpnet.com or follow @CorpNet on Twitter.