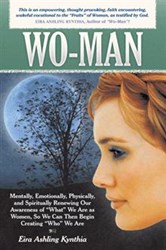 Raleigh, N.C. (PRWEB) September 18, 2013
What if Adam had tempted Eve with the apple or what if women wrote the Bible?
Wo-Man by Eira Ashling Kynthia is an inspirational, women-centric look at the message of Christianity. Eira examines many ancient texts, including the Bible in order to give women a better understanding of God's true message.
"My book awakens women on the authentic value of her very being with unconditional love and acceptance, while expelling her need to fulfill the world's need for her to prove her worth," said Kynthia.
By looking at these texts, she is able to strip away gender bias and inspire women from all backgrounds to break out of the traditional masculine cycle touted by the many Christian sects.
"Wo-Man is a spiritual guide revealing the truths of woman's divine prestige and showing her how to let go of the false feeling of mankind's control within this seemingly unimpeachable sense of dominance," said Kynthia. "The book transforms and liberates women to secure in her a sense of femininity without compromise."
Wo-Man
By Eira Ashling Kynthia
ISBN: 978-1-44971-426-0
Softcover retail price: $11.95
E-book price: $9.95
About the author
Eira Ashling Kynthia served in the army for 24 years, where she was able to travel the world amongst diverse cultures. The greatest achievement of her life was her son John who was called back to God at age 23. She has dealt with her loss with grace and has used this experience to help inspire others.
Available at http://www.amazon.com, http://www.bn.com, and http://www.westbowpress.com.