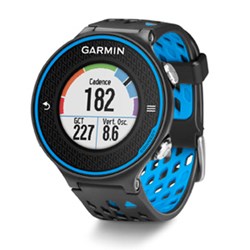 It is the most technically sophisticated running watch in the world and the run oscillation feature is just awesome for improving running efficiency
Bozeman, MT (PRWEB) September 17, 2013
Garmin Forerunner 620 is Garmin's latest GPS watch for runners and cyclists according to the Heart Rate Watch Company.
"Forerunner 620 has added many features and resolved issues that existed with the 610", says Rusty Squire, President of the Heart Rate Watch Company. He adds, "It is the most technically sophisticated running watch in the world, and the run oscillation feature is just awesome for improving running efficiency".
NEW FEATURES
"Garmin 620 is now water resistant to 50 meters so you can swim with it, unlike the 610", says Squire. He adds, "There is also an internal accelerometer so there is no need for a foot pod to receive cadence data or run indoors".
"The new full color touchscreen is much sharper and easier to read, plus the screen is less pressure sensitive so you do not have to push it hard like the 610", says Squire.
RUN OSCILLATION FEATURE
The new run oscillation feature tells runners how to run more efficiently by controlling vertical travel which reduces running efficiency. "This watch can also measure the VO2 max and project race times for various distances", says Squire.
REAL-TIME DATA UPLOAD
Forerunner 620 can upload all your data to Facebook or Garmin Connect in real-time through your Bluetooth Smart compatible smartphone. "Communicate all your data to coaches and friends in real-time", says Squire.
PRICE & AVAILABILITY
The Garmin Forerunner 620 comes in a black/blue men's version, plus a white/orange women's version and will retail for $399.99 without heart rate and $449.99 with heart rate. According to Squire the watches are available now for pre-order and should ship by late October.
WHERE TO BUY
"You can place advanced orders for either the Garmin Forerunner 620 or the new Forerunner 220 on our website right now at the Heart Rate Watch Company", says Squire. He adds, "You can also call us with questions and talk to a real expert at 866-586-7129".