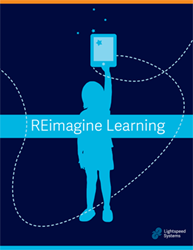 REimagine Learning is a free resource that guides teachers and administrators through all the amazing things they can do to reimagine learning in their district.
Bakersfield, CA (PRWEB) September 17, 2013
Lightspeed Systems recognizes that along with the amazing educational benefits technology in the classroom can bring, challenges exist. The company is honored to work alongside educators to discover new ways to implement safe, mobile, and collaborative learning programs by adopting innovative technology solutions.
By offering a filter about access, a learning management system (LMS) about collaboration, and a mobile device management (MDM) solution made just for K12 schools, Lightspeed Systems is reimagining education. With these tools in place, learning can be extended beyond walls and school bells and students can engage in meaningful projects. Educators, students, and parents can create collaborative communities and mobile devices become more than just distractions—they become an integral component of the learning experience. But Lightspeed Systems knows that change is hard and challenges exist when adopting new technology programs into the classroom—which is why they are here to help .
To guide educators through transforming the classroom, Lightspeed Systems has created a new eBook. REimagine Learning is a free resource, available to download here, that guides teachers and administrators through all the amazing things they can do to reimagine learning in their district.
In REimagine Learning, educators will discover the challenges, benefits, and top tips regarding:

BYOD
Digital Citizenship
Backchanneling
Cyberbullying
Flipped Classrooms
Project Based Learning
Digital Textbooks
And more
This compiled series of "Quick Looks" will help educators navigate the exciting world of education technology. With this free resource and Lightspeed Systems solutions, schools can reimagine classrooms, teaching, technology, education, and more.
To learn more about reimagining learning in your school, visit http://www.lightspeedsystems.com/reimagine/
About Lightspeed Systems
Education needs the technology revolution that has transformed every other industry. How do we get there? By engaging students in meaningful projects, by creating learning communities, by extending learning beyond the class walls and school bells, and by making sure that schools are empowered to safely and easily use transformative technologies.
That's where we come in… Lightspeed Systems partners with schools to make learning safe, mobile and collaborative. We've helped thousands of schools around the world protect and engage more than 10 million students.
Lightspeed Systems + Your School. Together we do amazing things.
MEDIA CONTACTS:
Toni Frantz
toni(at)lightspeedsystems(dot)com
Lightspeed Systems
661-706-5517