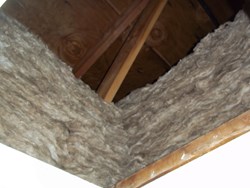 Seattle, Washington (PRWEB) September 24, 2013
Insulation is an important part of reducing energy bills and making homes more comfortable. But did you know that you can create safety issues in your home if you do not install insulation correctly? Here are three tips from Washington Energy Services to installing proper insulation.
1. Tightening your home with insulation and air sealing should include appliance testing, especially in homes with natural gas. On a recent home energy audit, Washington Energy's home performance team discovered unseen carbon monoxide coming from an old gas water heater. With a drafty house, and the water heater in the basement, it wasn't enough gas to trip the CO detector in the main part of the house. However had the homeowner installed full insulation and air sealed the house without knowing or measuring, they may have locked in that gas and exposed their family to high levels of carbon monoxide.
2. Your house needs to breathe to maintain your indoor air quality and prevent moisture problems. Homes built prior to 1990 rarely are tight enough for this to be a concern when insulating, but newer homes may actually need added ventilation installed to ensure healthy air inside the home. When sealing and insulating be sure not to cover vents. It may seem right, like you are keeping outside cold away, but it's actually causing a problem. When insulating and air sealing the home you want to baffle the soffits (the vents under the eaves of the roof) and ensure the bath fans are vented directly to the outside. If insulation blocks the soffit vents the heat and moisture rising up through your house toward the attic, cannot escape. This will result in condensation forming in the attic and can eventually soak or ruin your insulation plus potentially affect your roof shingles. But most importantly, it can create the environment for mold and mildew to grow.
Many older homes were built without adequate insulation or venting, so when you add one, you'll need the other. A licensed insulation contractor will know where and how much venting will be enough. And don't worry about letting cold air into the house through the attic. Once you seal and insulate the attic floor, it can't get into your living space.
3. Insulation and can lights may not mix well. If you have recessed "can" lights, those spotlights commonly built into the ceiling, you may not know that some of them are rated to be surrounded by insulation and some are a fire hazard if they are surrounded by insulation. Inside the light fixture look for the rating stamp IC (insulation contact). IC lamps can contact your insulation safely. If you do not see IC, keep insulation 3 inches away from the light fixture and use a wood or metal barrier to ensure they don't touch. Consult the manufacturer of the lamps or an electrician, if you have questions about safe installation. There are also specialized boxes that can go over non-IC rated cans so you can air seal the cans without making them a fire hazard. To ensure your cable, wiring and insulation are an appropriate match, please research carefully before installing them yourself.
And one final tip. To maximize the comfort impact of insulation; insulate and seal your air ducts. If you are going to invest in adding insulation, for just a small amount more a home performance contractor can add duct sealing and duct insulation. They will carefully seal the joints in exposed portions of your duct system and then insulate around the ducts. This works to ensure that the heat travelling in your ducts gets to the rooms you need it in. When combined with insulation and air sealing, these three measures can improve home comfort and reduce energy costs by up to 30%. There are also Seattle area utility rebates for performing these measures, as well as a federal energy tax credit.
Washington Energy Services provides home comfort solutions including home energy audits, insulation, air sealing and duct sealing. Washington Energy has been serving Western Washington homes with energy efficient home improvement since 1957. Call for an appointment at 800-398-4663 to learn more.