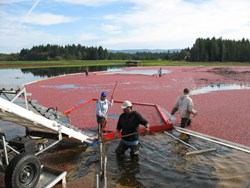 ...cranberry harvest can be quite magical, especially on a mild day when early morning sun dances on the glistening berries...
Long Beach Peninsula, Wash. (PRWEB) September 18, 2013
As crimson berries ripen in the late summer sun and harvest nears, the spotlight turns to cranberries on Washington's Long Beach Peninsula. From early October into November, the Long Beach Peninsula welcomes visitors to experience the rich harvest season with an array of cranberry events and activities.
Starting a week into October, cranberry farmers begin the choreographed practice of wet harvesting century-old bogs – flooding fields, gently "beating" the ripe cranberries off the vines, wading into the bogs to corral the floating berries onto conveyor belts, which empty them into huge containers, and then carting them off to Ocean Spray's Long Beach Receiving Station.
"The three plus-week harvest is hard work," shared Ardell McPhail, co-owner, CranMac Farms. "Still, after 33 years, cranberry harvest can be quite magical, especially on a mild day when early morning sun dances on the glistening berries, and we can literally see the fruits of our labors."
Being cautious not to block the roads needed to transport equipment and berries, visitors are invited by many farmers to watch harvest up close. Adventuresome types with waders and a strong back might also see about volunteering. Helpful greeters at the Long Beach Peninsula Visitors Bureau (intersection of highways 101 and 103, in Seaview), phone 360.642.2400, email ask(at)funbeach(dot)com, can point out area bogs and harvest schedules.
Visitors can also celebrate, sample and learn more about cranberries by attending The Cranberrian Fair, a Harvest Festival, Friday, Oct. 11 through Sunday, Oct. 13. Marking its 92nd year, the Fair is hosted by the Columbia Pacific Heritage Museum (CPHM, 115 Lake Street, SE, Ilwaco) with the Cranberry Museum (2907 Pioneer Road, Long Beach). Purchase of a collectible button for $5 admits one to sample foods, visit with crafters, tour CPHM exhibits, take a guided tour of research bogs, and ride the Cranberry Trolley to the Cranberry Museum (free admission) and Pacific Coast Cranberry Research Foundation.
The Cranberry Trolley will run from the CPHM to the Cranberry Museum on the hour from 11AM to 2PM on Oct. 12 and 13. Seating is limited and on a first-come, first-served basis.
During the Fair, dry-harvested cranberries, homemade peach-cranberry pies, handcrafted items such as cranberry-vine baskets, hand-turned wooden bowls, pottery, jewelry, and more will be available for purchase. Please access http://columbiapacificheritagemuseum.org/news-events/cranberrian-fair-harvest-festival/ for additional details.
Other ways to experience cranberries this fall on the Long Beach Peninsula include the following:
· Pick and/or purchase cranberries at Cranguyma Farms for fresh eating, canning or freezing for Thanksgiving fare;
· Taste seasonal cranberry specials at Pacific County restaurants and bakeries;
· Sample libations at select restaurants and pubs using Starvation Alley Farms Cranberry for Concoctions raw cranberry juice concentrate. Starvation Alley is the first cranberry farm in Washington to work toward USDA Organic Certification.
Located on the southwestern-most coast of Washington State, the Long Beach Peninsula has been growing cranberries for more than 100 years. Acres upon acres of cranberry bogs as well as over twenty varieties of wild edible mushrooms thrive under its ideal coastal conditions of moist sea air, fertile sandy soil and protective evergreens. Surrounded on three sides by the Pacific Ocean, Columbia River and Willapa Bay, the Peninsula is known for its talented chefs and the ready availability of an abundance of freshly caught fish and seafood, giving diners an unmatched opportunity to dine at the source.
For event and destination information, please contact the Long Beach Peninsula Visitors Bureau at 800-451-2542 or access the Peninsula's web site at http://www.funbeach.com.
# # #