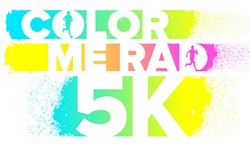 Our goal was to host an exciting event for our runners. Kimbia Racing supported us in achieving that goal by enabling registration and packet pick-up in the runners' and volunteers' own language.
Austin, Texas (PRWEB) September 17, 2013
Today Kimbia Racing announced that Color Me Rad, one of the nation's largest and most colorful 5K race series — in which runners are "bombarded with color that tie-dyes their T-shirts at the same time it brightens their outlook on life" — has expanded to Asia and sold out its most recent race in Seoul, South Korea.
This was possible in part because of Kimbia Racing's full internationalization with language support, multi-currency capabilities and distributed merchant account functionality that enables organizations to decide whether funds should flow to the United States, stay in country or a combination of both. As American races expand worldwide, this capability will be critical — both for participants and for race organizers.
Color Me Rad Asia athletes' entire online experience was presented in the local language, with everything from registration forms to customized branding in Korean. Kimbia Racing's flexible solutions put the company at the forefront of international race registration by offering a single integrated system for foreign language interface and foreign currency processing.
Race organizers find Kimbia Racing's solutions to be practical and cost-effective, easing the headaches that can come with international financial systems. Processing a foreign currency and sending it to the United States via a merchant account typically requires repatriation fees and interbank exchange fees, but Kimbia Racing customers can avoid them. Kimbia Racing can resolve payment in foreign currency to either a U.S. bank or a local bank in Europe, Asia or South America, skipping the fees altogether.
"Our goal was to host an exciting event for our runners. Kimbia Racing supported us in achieving that goal by enabling registration and packet pick-up in the runners' and volunteers' own language and by taking care of the complex international financial processes," said Color Me Rad Asia founder Shane Crandall. "Additionally, the Kimbia team gave outstanding customer service, responding to our requests even in the middle of their night because of the time difference."
Beyond a streamlined registration experience, Color Me Rad Asia had a smooth packet pick-up thanks to Check-In, Kimbia Racing's specialized tool that gives volunteers and staff the ability to retrieve athletes' records, make updates and assign bibs. With Check-In, the Color Me Rad team quickly processed a high volume of runners in two days.
"We give organizations the ability to provide registration and take donations in different languages — without the cost of custom software development," said Kimbia Racing general manager Simon Essl. "The advantage Kimbia provides is a seamless experience for the athlete during registration, regardless of their nationality. In addition, Kimbia's interface allows easy management of all data and funds."
About Color Me Rad
Inspired by the Holi Festival of India, Color Me Rad turns runners into color revelers. For more information and to see additional race locations, visit http://www.colormerad.com or check out what fans have to share on Facebook at http://www.facebook.com/colormerad.
About Kimbia Racing
Managed by triathletes, cyclists and runners who participate in and support events year-round, Kimbia Racing knows first-hand the impact of a good race registration experience and that every race is unique. That's why the Kimbia platform gives race directors the ability to easily manage online components including registration, volunteers and fundraising, all the while retaining complete control over their brand, data and funds. Kimbia Racing proudly supports directors of leading events worldwide, including IMG Worldwide Escape from Alcatraz™ Triathlon, Reed Street Production's Run for Your Lives, Beijing International Triathlon, MetroPCS Dallas Marathon and The Ragnar Relay Series. For more information, visit KimbiaRacing.com.