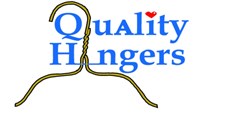 We Hang Our Reputation on Your Satisfaction!
Stone Mountain, Georgia (PRWEB) September 19, 2013
In March of 2008, a tariff enacted by Congress was meant to protect American manufacturing jobs, but it simultaneously made the domestic dry cleaning industry and consumers of wire garment hangers feel penalized. For years the only place for dry cleaners to buy wire hangers needed for their businesses was overseas. Those sources were able to hold American dry cleaners hostage with the high costs attached to their product because they were the only resource available.
"It has been a long time since wire hangers have been offered at affordable prices for owners and operators of dry cleaners," stated Renota Johnson, Regional Sales Manager of Quality Hanger, Inc. Quality Hangers, Inc. plans to supply quality wire hangers to dry cleaners with American made iron materials.
American dry cleaners no longer have to bear the higher cost for wire hangers used in their industry. The dry cleaner industry will enjoy the lower cost of our locally produced hangers manufactured in Stone Mountain, Georgia.
Vendors, distributors, and dry cleaning companies interested in learning more about Quality Hangers Inc. products and pricing options can visit http://www.qualityhangersusa.com and/or contact Renota Johnson at 404-508-0630.