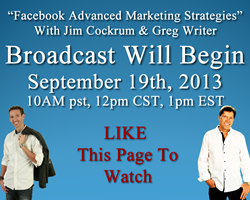 We will share many case studies and show entrepreneurs how to find Facebooks best leads and then what to do with them when you find them.
San Diego, California (PRWEB) September 17, 2013
Angel Investors Network & Jim Cockrum in a joint announcement will be holding a LIVE Google On Air Hangout to discuss various Facebook marketing strategies designed to help small business and online marketers.
Jim Cockrum, founder of http://www.mysilentteam.com, will interview the CEO of Angel Investors Network, Greg Writer, to discuss their new software FB Lead Finder and how it can be used to generate leads, traffic and customers for any small business owner, online marketer or social media marketer.
Mr. Writer was quoted as saying "We will share many case studies and show entrepreneurs how to find Facebooks best leads and then what to do with them when you find them. In addition we will share some advanced Facebook marketing strategies designed for "affiliate marketers" that is on the cutting edge of leveraging the enormous user base of Facebook."
You can watch the Live Hangout at http://www.22s.com/writer/fbleads to be held September 19th, 2013 at 10am PST or 1pm EST.
More Information about Angel Investors Network
AngelNetwork.com, LLC doing business as Angel Investors Network (AIN) has been serving high net worth investors and entrepreneurs since 1997. They are an educational membership site that provides information to both high net worth investors and entrepreneurs to help them successfully invest in, raise capital for and structure their early stage, emerging growth and pre-IPO investment opportunities.
AIN was created by a group of successful entrepreneurs, investment bankers, angel investors, marketing and management experts, lawyers, and accountants who have built companies in a diverse set of industries. AIN offers investors an opportunity to participate in the buying and selling of businesses, making equity investments, and providing debt financing to businesses with the opportunity of less risk and faster returns than typical Angel Investments because of our unique approach.
AIN also works with investors, marketing strategists, management experts and financial gurus who combine their skill and experience to work with our target investments and make them highly successful businesses. We are more than just Angel Investors. We are Business Marketing Consultants. We invest our time, expertise, and money in exchange for equity with the objective to help entrepreneurs succeed. http://www.AngelNetwork.com
More Information Jim Cockrum
Jim Cockrum is ranked among the most trusted Internet Marketers in the world (among hundreds of 'experts' his name keeps showing up on top) according to the 40,000 voting members of the independent watch dog service IM Report Card.
He actively sells on Amazon, eBay (since 1997), and coaches business and individual clients toward business success online. He's sold or helped his clients sell tens of millions of dollars of products and services online since 2000. His ideas have helped everyone from stay home entrepreneurs seeking to start successful eBay or Amazon based businesses to large corporate clients seeking to use the Internet as a creative marketing tool. He earns his living from the Internet and he works full-time studying effective Internet strategies and educating individuals and businesses on the creative and powerful marketing potential of the Internet.
His free newsletter "CES News" has added well over 250,000 subscribers since it first launched in 2002.
He has appeared in the Wall Street Journal, Entrepreneur Magazine, Men's Health magazine, eBay radio, and in countless news and radio programs as an Internet and online business expert.
He's probably best known for his all time bestselling book titled "The Silent Sales Machine" now in its seventh update and re-release, as well as his two membership sites at OfflineBiz.com and MySilentTeam.com. September 2011 marked the release of his first "book store shelf" book Free Marketing: 101 Low and No-Cost Ways to Grow Your Business, Online and Off. The book quickly vaulted to the #1 position on Amazon.com among "Marketing" and "Internet Marketing" titles among raving 5 star reviews. For several weeks after launch it was among the top selling books in the world.