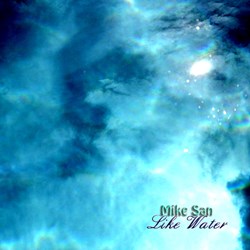 I intentionally laced the album with catchy instrumental and vocal phrasing.
Northern CT (PRWEB) September 25, 2013
Mike San is a Connecticut based indie music project whose debut album, Like Water, is set for release Sunday September 29th, 2013. Featuring six catchy tracks, this album sits in several different music classifications, including ambient, indie, rock, pop, and electronic. The music is all written and composed by Michael Goldberg, who is a life-long musician, as well as an artist, song-writer, and producer.
Half of the album was recorded while Mike was taking part in an audio-engineering apprenticeship at the Onyx Sound Lab in Manchster, CT. The other half was recorded at Mike's home studio. "Having the opportunity to study at the Onyx made it possible for me to complete the other half of the album on my own. It was an excellent way to get more experience producing music."
When asked what to expect from this album, Mike explains that "While it's largely up to the listener to interpret what they're hearing, I intentionally laced the album with catchy instrumental and vocal phrasing. It's like when you hear a song for the first time, but the melody is so familiar. It's as if the song has always been there. To me, that's how you know it's a good song, which is what I'm going for with my music."
The album will be available at midnight on Sunday September 29th for download at http://www.mikesan.com. The following week it will be available on all major digital music stores, including iTunes and Amazon. Pre-orders for CD's will be available from the website on the day of release.
Mike San (Michael Goldberg) is currently living in northern Connecticut, where he teaches guitar and produces music for himself and his clients. He has previously released four other albums under the artist name of Musical Mandalas, which is an ambient music project that he started in 2010. "Like Water" will be the first album he has released under the name of Mike San.