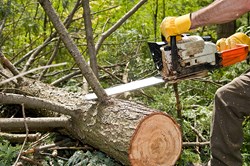 Burbank, CA (PRWEB) September 17, 2013
USA Business Insurance has announced that sole proprietors as well as multi-employee companies involved in tree trimming, professional lawn care, tree pruning and arborist activities can be covered by General Liability Insurance for tree trimmers.
The actual job of tree trimming may be seasonal as well as weather related. Both winter ice storms and summer thunder storms can uproot trees or cause heavy limbs to fall damaging a client's property. Many tree trimmers branch out to other areas that are complimentary such as pruning, stump removal, snow plowing and lawn care to fill in the times when work is lean. The long waited program now offers General Liability Insurance for Tree Trimmers that will cover all businesses engaged in any of these activities.
Whether the business owner branches out into auxiliary services, adds another branch or grows in terms of operating capital, no new policy needs to be written. This new program offers coverage that extends to each business requirements.
General Liability insurance covers three main areas: premises liability, products liability and completed services. Safety should be the number one priority in all businesses but no matter how carefully you operate and how many measurements you have taken, accidents can happen whereby a customer or visitor is injured on the job site. The premises liability will cover any legal, medical and other expenses that may arise from these personal injury accidents. Under this plan the customer's personal property is also covered should it be damaged. This coverage protects the insured at any location where the job is being performed.
Products liability covers the policy holder in those cases where the insured may sell tools, equipment or supplies to the client. The customer may come back and say the product or tools were defective which caused property damage or physical injury. General liability insurance will cover legal fees and medical expenses even if the products were supplied by a third party.
The completed operations portion is extremely important. A business owner may have trimmed a tree and a year from that date the tree dies. The customer blames the tree service. General liability insurance includes completed operations coverage to help pay for litigation costs, lost wages if the insured must take time off work for defense, and payments to customers for settlements if needed. It pays for legal fees even in the instances where the insured was found blameless.
To learn how General Liability Insurance for Tree Trimmers can cover any business in tree and lawn services, visit http://www.businessinsuranceusa.com.
About USA Business Insurance: USA Business Insurance writes general liability insurance which includes premises liability, products liability and completed services for many specialized industries.