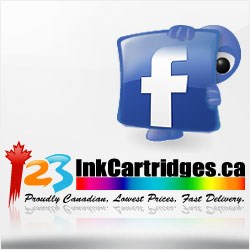 (PRWEB) September 17, 2013
Leading Canadian online retailer of inkjet and toner cartridges, printers, cables, office supplies as well as computers and parts, gadgets, iPhone, and iPad accessories, 123inkcartridges.ca is celebrating their 6th anniversary. Customers can look forward to a 20% anniversary giveaway that will be made available to all their customers via the company's email flyer as a coupon code.
A representative of the company says, "123inkcartridges.ca was created with a simple goal in mind; to provide quality ink cartridges and toner cartridges, HDMI cables, cell phone accessories, and more other products at the lowest prices possible. We are delighted to be in the business for 6 years now and to thank all our customers for their loyalty and support, we are rewarding them through a coupon code that gives them a 20% discount on all purchases."
As a growing company, 123InkCartridges.ca has four family websites to satisfy all their customers' on line shopping needs. They provide a large assortment of ink and toner cartridges on 123inkCartridges.ca, cables and adapters on PrimeCables.com, cell phone accessories on iPhoneGala.com, and electronic gadgets directly from manufactures on FactoryGlobal.com. To make it even more convenient for customers, one shopping cart can be used to easily shop within all four of their websites.
About 123inkcartridges.ca:
123inkcartridges.ca is one of the fastest growing and leading online suppliers of high quality office, mobile related items, and smartphone gadgets at competitive prices in Canada. With its well-facilitated quality control and industry-recognized service and support centers, the company provides expertise and flexible business processes that enhance product features and minimize supply chain disruption. The company has built up its available inventory of quality accessories by negotiating low prices with suppliers. Its online catalogue of over 10,000 of the best and latest products is available at http://www.123inkcartridges.ca.