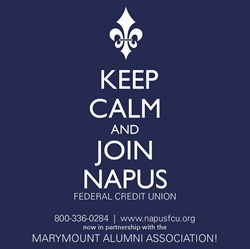 (PRWEB) September 17, 2013
NAPUS Federal Credit Union is excited to be participating in the 2013 Marymount University Homecoming from September 26th-29th at the Marymount University campus in Arlington, Virginia. Through NAPUS FCU's partnership with the Marymount University Alumni Association, all Marymount alumni and their families are able to take advantage of the lower loan rates and incomparable financial benefits at NAPUS FCU.
Throughout Homecoming weekend, attendees will have the opportunity to meet the NAPUS FCU staff, gain financial advice, and learn about the Credit Union's exceptional rates and services. Informational materials will be available for anyone interested in learning more about NAPUS FCU.
Homecoming attendees can find NAPUS FCU at the following events:
Blue and White Golf Tournament
Friday, September 27, 2013
1:00 p.m. Shotgun Start
5:00 – 8:00 p.m.; 19th Hole Reception and Tournament Awards
1757 Golf Club, Dulles, Virginia
NAPUS FCU is proud to sponsor the 19th hole where future members can ask questions and see how a membership with the Credit Union can improve their financial future.
Block Party
Saturday, September 28, 2012
12:00 noon – 4:00 p.m.; Marymount Campus, Main House Parking Lot and Ireton Lawn
Cost: $15 per person, children 10 and under are free.
For more information on all of Marymount University Homecoming events, visit http://www.marymount.edu/alumni/homecomingandreunion/schedule.aspx.
As a special bonus, Marymount Alumni Association members who get a NAPUS FCU Visa credit card will be entered into a drawing to win $1,000 every time they use the card*. Similar opportunities to earn extra money are offered several times a year to all NAPUS FCU members. The Credit Union offers many additional benefits including Elite Checking that pays a dividend rate of 3.00% annual percentage yield**, regular checking, savings, share certificates, money market, IRA accounts, excellent loan rates to fit everyone's needs, a full array of electronic services, and much more.
Joining NAPUS FCU is financially beneficial and easier than ever before. For a list of eligibility requirements, visit http://www.napusfcu.org/join. In addition to the groups listed on our website, membership is also extended to those members of the American Consumer Council (the ACC). Consumers may be eligible to join NAPUS FCU through the ACC; please visit the ACC's website at http://www.americanconsumercouncil.org for more information on membership eligibility. As an extra bonus, NAPUS FCU will pay the dues for members to become part of the ACC!
To learn more about NAPUS FCU's products and services, visit http://www.napusfcu.org or call (800) 336-0284.
*No purchase or obligation necessary to win. Non-purchase entries and purchase entries have an equal chance of winning. To enter by US mail, handprint your name, address, city, state, ZIP code, and phone number on a 3"x5" card and mail in a #10 envelope with postage affixed to: Marymount Visa Sweepstakes, PO Box 148, Alexandria, VA 22313-0148. Mail-in entries must be postmarked by 12/31/13 and received by 1/9/14 in order to be eligible. Enter as many times as you wish; however, each mail-in entry counts as one entry into the drawing and must be mailed in a separate postmarked-and-stamped envelope.
**Annual Percentage Yield is accurate as of August 31, 2013 and the rate may change after the account is open. Fees could reduce the earnings on your account. Certain conditions apply. Please log on to https://www.napusfcu.org/News-and-Announcements/August-2013/NEW---Elite-Checking-Account.aspx for details or contact the Credit Union directly at 800-336-0284.
Federally Insured by the NCUA