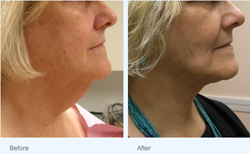 Dr. Robert Langdon is pleased to announce ThermiTight, the new, minimally invasive way to tighten sagging skin on the face, neck, and body, now available at The Langdon Center on the Connecticut Shoreline.
Guilford, CT (PRWEB) September 17, 2013
Dr. Robert Langdon is pleased to announce ThermiTight, the new, minimally invasive way to tighten sagging skin on the face, neck, and body, now available at The Langdon Center on the Connecticut Shoreline. Dr. Langdon recently made an appearance on New Haven's WTNH Channel 8 "Connecticut Style" to discuss the exciting new treatment.
"ThermiTight uses safe, effective radio frequency energy to heat tissue beneath the surface of the skin, causing contraction and tightening of sagging skin," explains Dr. Langdon. "The procedure itself poses little to no downtime and requires only safe, local anesthesia."
In addition to tightening skin on the lower face and neck (one of the first and most stubborn signs of aging) ThermiTight also improves other areas of the body that can benefit from tightening or lifting. Other commonly treated areas are the breasts (the ThermiTight procedure is frequently combined with breast lipo-reduction), sagging skin of the abdomen (often the result of pregnancy or weight loss), and of the upper arms ("bat wings") and knee areas.
During the ThermiTight procedure, the treatment area is first numbed with local anesthesia, then a tiny incision is made in the skin (no stitches are needed). The ThermiTight electrode is then introduced below the surface of the skin, delivering radio frequency energy that heats the tissue, causing contraction, tightening and lifting. The real-time temperature of the skin is measured throughout the entire procedure, both below the skin surface (the RF electrode has a temperature sensor) as well as on the skin surface through the use of an external video camera, to assure patient safety.
While some results with ThermiTight are visible right away, full improvement gradually appears in the months following treatment and results are long lasting. The procedure itself typically takes less than one hour, with many patients resuming their normal activities right away, due to very minimal post-treatment redness and swelling.
For some patients, the ThermiTight procedure can put off surgical procedures such as a necklift or facelift.
To learn more about ThermiTight, or to schedule your free consultation at The Langdon Center in Guilford, CT, call (203) 453-8625 or email cdyson(at)langdoncenter(dot)com.
About Robert Langdon, MD
Dr. Langdon, a graduate of the University of Oregon Medical School, completed his residency in dermatology at Yale-New Haven Hospital. He is board certified by the American Board of Dermatology and the American Board of Cosmetic Surgery. Dr. Langdon has published numerous scientific articles in medical journals as well as book chapters in surgical textbooks. In addition, he is the author of "Understanding Cosmetic Laser Surgery," a book written for consumers to help them better understand lasers and cosmetic surgery. Dr. Langdon is a member of the medical staff of Yale-New Haven Hospital and is a Clinical Associate Professor of Dermatology at Yale University School of Medicine. Dr. Langdon is a member of the American Society for Laser Medicine and Surgery, The American Society for Dermatologic Surgery, the American Academy of Cosmetic Surgery and the American Society of Lipo-Suction Surgery.
About The Langdon Center:
The Langdon Center for Laser & Cosmetic Surgery offers the latest in cosmetic medical and surgical treatments in their Guilford, CT office, which is conveniently located off exit 58 on I-95. Medical Director Robert Langdon, MD, Board Certified in both Dermatology and Cosmetic Surgery, and his highly skilled team provide custom programs coupled with personalized care to meet the needs of each patient. Many of the treatments and procedures have minimal to no downtime. Services include: ThermiTight Radio Frequency (RF) Skin Tightening, PicoSure Laser Tattoo Removal, CoolSculpting®, BOTOX®, Restylane®, Sculptra®, Radiesse®, Micro Laser Peels, Photo Facials, SkinTyte Skin Tightening, Fraxel Skin Resurfacing, Laser Hair Removal, Laser Tattoo Removal, Laser Vein Removal, Express-Lift Face-Lift, Endoscopic Brow-Lift, Laser Eyelid Lift, Tumescent Liposuction, Natural Breast Augmentation (no implants), Scar-Less Breast Reduction and Laser Lipolysis with both ProLipo™ and SlimLipo™ systems. The Langdon Center also carries physician level skin care products. Initial consultations are complimentary. To book your free consultation or to request more information please call 203-453-8625 or visit http://www.langdoncenter.com.