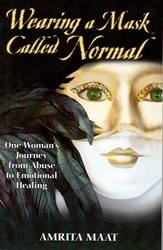 Tampa, FL (PRWEB) September 17, 2013
In Amrita Maat's new book, "Wearing a Mask Called Normal," the author shares her intensely personal story of overcoming abuse that began in childhood.
"This is the story of a lifetime of abuse, dysfunction and chaos that was my world," says Maat, a nurse and child abuse survivor. "It was a world I hid each day by wearing a mask of normalcy so I could fit in with others. My daily life was a staged act – until I found success in my journey of overcoming abuse."
Abuse takes many sinister forms in our society; most, if not all, of us have experienced or witnessed some variety of abuse, she says. Physical, emotional and sexual abuse have become distressingly common in our families, our classrooms and in the workplace.
Maat's compelling life story chronicles her journey through a lifetime of abuse, exploitation and sexual predation and her sometimes disastrous attempts to find her place in "normal" society. She says it's not surprising that she suffered from impaired self-esteem, or that she had difficulty entering into meaningful relationships or that she constantly questioned her professional, personal and parenting abilities.
"Along the way to overcoming abuse, I learned profound lessons about myself, my world and my relationship with the world," Maat says. "These are the lessons that I share with readers who start their day, as I once did, by donning a mask."
Maat's emergence from her own personal hell begins with forgiveness, a systematic process, and acknowledging the ways in which she learned and grew with each hurt.
"It is through these lessons that I am: I am a daughter; I am a mother; I am a wife; I am a sister; I am a woman; I am a nurse; and never again will I allow another person to take any part of me," she says. "I've written this book to share my story with others who seek answers on dark and pain-filled days and I offer readers encouragement and healing strength."
About Amrita Maat
Amrita Maat is a nurse who reached a turning point in her life when she was injured while trying to avoid the advances of a physician who had sexually harassed her for years. For the first time, she stood up to an abuser by taking the man to court. But she had waited too long under the statutes, so she did not get her day of justice. Because of the nature of her memoir, Amrita Maat is a pseudonym. For more information, visit http://www.maskcallednormal.com.