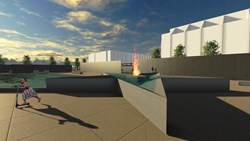 "The beginning of construction is one of the most significant milestones for the Memorial as it moves us that much closer to fulfilling our mission of honoring the men and women who have sacrificed so much for our country." - Arthur H. Wilson
Washington, DC (PRWEB) September 17, 2013
Turner Construction Company has begun construction on The American Disabled Veterans for Life Memorial, which is located on a two-acre parcel of land at the intersection of C and 3rd Streets in downtown Washington, D.C., within sight of the U.S. Capitol Building. This memorial is being built to commemorate America's disabled veterans who have honored us with their service and selfless duty. The focal point of the Memorial will be a star-shaped reflecting pool, its surface broken by a single ceremonial flame. A grove of trees will stand sentry beside the pool, signifying the persistence of hope. Four-inch-thick glass walls will contain quotations and imagery that represent personal journeys of courage and extraordinary sacrifice made in service to our country, with bronze sculptural cutouts of the silhouettes of veterans visible through the glass panels.
Turner is currently completing excavation of the site down to the 395 tunnel, which runs directly underneath the project site. After excavation is complete, Turner will waterproof the top of the 395 tunnel to provide an additional layer of protection and then commence pouring concrete for the foundations of the Memorial.
"The beginning of construction is one of the most significant milestones for the Memorial as it moves us that much closer to fulfilling our mission of honoring the men and women who have sacrificed so much for our country," said Arthur H. Wilson, Co-Founder and President of the Disabled Veterans' LIFE Memorial Foundation and retired National Adjutant of the Disabled American Veterans (DAV). "Turner is a company with deep roots in Washington and an unparalleled level of experience in building treasured national monuments and we look forward to our partnership with them in seeing this vision become a reality."
"Turner is absolutely honored to be involved in such a significant Memorial honoring millions of unrecognized American heroes," said Chris Jahrling, Vice President and General Manager of Turner's Federal Services Group. "Our entire company, especially our project team, is personally and professionally committed to the Memorial and we are grateful for the opportunity to take part in its creation."
About Turner Construction Company
Turner is a North America-based, international construction services company. Founded in 1902 in New York City, Turner has 5,200 employees worldwide and works on 1200 projects each year, for an annual construction volume of $8 billion. As the largest general builder in the United States, Turner ranks first or second in the major market segments of the building construction field, including healthcare, education, sports, commercial, telecommunications, and green building. The firm is a subsidiary of HOCHTIEF, a publicly traded company, and one of the world's leading international construction service providers.
For more information please visit http://www.turnerconstruction.com.
About HOCHTIEF
HOCHTIEF is one of the leading international providers of construction-related services. With more than 80,000 employees and a sales volume of EUR 23.28 billion in FY 2011, the company is represented in all the world's major markets. With its core competencies in development, building and operation, the Group delivers services for the entire life cycle of infrastructure projects, real estate and facilities. The focus of the related business activities is on four strategic areas: energy infrastructure, transportation infrastructure, major cities, and resources. With its subsidiary Leighton (HOCHTIEF share around 54 percent), the Group is market leader in Australia. In the USA, the biggest construction market in the world, HOCHTIEF is the No. 1 general builder via its subsidiary Turner and, with Group company Flatiron, ranks among the most important players in the field of transportation infrastructure construction. Because of its engagement for sustainability, HOCHTIEF has been listed in the Dow Jones Sustainability Indexes since 2006. Further information is available at http://www.hochtief.com/press.
About the Disabled Veterans' Life Memorial Foundation
The Disabled Veterans' Life Memorial Foundation, Inc. was created in 1998 through the combined efforts of philanthropist Lois Pope; Arthur Wilson, retired national adjutant of the Disabled American Veterans; and the late Jesse Brown, former secretary of Veteran Affairs. Formed as a 501(c)(3) non-profit, the Foundation's sole objective is to raise the private funds needed to design, build and permanently maintain the nation's first memorial dedicated to living and deceased disabled veterans – The American Veterans Disabled for Life Memorial. Soon, thanks for the efforts led by the Disabled Veterans' Life Memorial Foundation, Inc., and supported by veterans as well as concerned and generous citizens and corporations, these soldiers will have a permanent memorial in the nation's capital that will pay tribute to their sacrifices. http://www.avdlm.org.