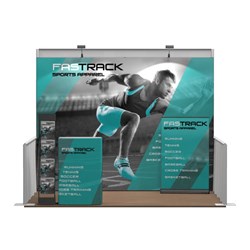 We feel these kits are a great way for us to try and make our clients' jobs easier.- APG President Matt Baron
Grayslake, Illinois (PRWEB) September 17, 2013
APG Exhibits recently added more than 30 complete trade show display kits to their web store. These kits, which are being offered at discounted pricing, include nearly everything needed to construct a robust and cohesive exhibit area, such as hardware, graphics, lighting, cases, and more. They are being offered largely as a way to lighten the workload on new exhibitors (or anyone looking to make a major booth upgrade) by providing all necessary components in one package, alleviating the need to cobble together the pieces individually.
APG Exhibits' President Matt Baron remarked, "We are extremely proud to offer these new kits, which we have been wanting to do for quite a while. Sometimes the most difficult part of assembling a trade show booth is figuring out how everything will look and work together, and we think these solutions address that challenge almost completely."
The kits are offered in a variety of configurations, including 10-foot, 20-foot, table-top, and outdoor versions. Each kit was carefully selected and then paired with shipping cases designed to fit each of the components exactly (taking even more guesswork out of the process). The kits use many products already available in the APG Exhibits inventory, keeping costs down, and they utilize an array of graphic materials, hardware types, accessories and more.
Images with representative branding are shown for each kit, allowing a potential buyer to see precisely how all of the pieces would work together once designed and assembled. Additionally, APG Exhibits has given special pricing considerations for every kit, which work out to savings of 10% or more when compared to the cost of purchasing each element separately.
"We've made the effort to provide kits for all budget levels," explains Baron, "so that potential exhibitors both big and small have access to these exciting products. We want to make our clients' jobs easier, and we figured this would be another great way to try and do just that."
For more information about APG Exhibits or their brand new trade show display kits, please contact APG Exhibits at 866-752-2192, or use the email link provided.
...
APG Exhibits is a premier online provider of trade show displays, outdoor exhibits, custom booths, promotional giveaways, custom banners and more. APG Exhibits' mission is to provide high-quality trade show display products and outstanding customer service at the guaranteed lowest prices. Contact Customer Support at 866-752-2192 or visit apgexhibits.com for more information.