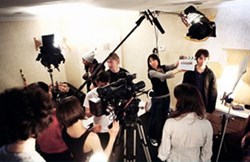 Friendly, knowledgeable, and patient staff—able to successfully integrate students of varying skill levels.
Chico, CA (PRWEB) September 18, 2013
The Basics of Video Production is an excellent way to get hands-on introduction in the essentials of video production. Lectures by the experts at Videomaker will cover all the video fundamentals and techniques: shooting, miking, editing and lighting. Workshop attendees will form production teams and use the skills they've learned to plan a project, shoot it in the Videomaker studio, edit the footage, and screen the results at the end. The combination of teaching and hands-on practice makes the workshop especially effective since attendees are enabled to translate video knowledge into real-life application.
The workshop also provides a valuable opportunity for video enthusiasts to network with other videographers in the area. Plus, the Videomaker editors will be available for questions and video advice throughout the course of the three-day workshop.
Creating a quality production takes more than a good idea and a nice camera. Aspiring videographers also need to have a thorough understanding of the elements of video. And for consistently great video, they must be able to creatively apply everything they've learned to their own work. Mastering the essentials of video production will take amateur video to the next level—and help serious hobbyists create pro-level work.
Since 1996, Videomaker has hosted these three-day workshops at their headquarters in Chico, California. Typically, they are attended by enthusiastic hobbyists and employees of businesses seeking to develop multimedia departments within their company. The Basics of Video Production Workshop focuses on the beginner-to-intermediate learner. The experts at Videomaker continually incorporate the real-world skills that videographers absolutely must have to ensure that they capture amazing video every time they shoot.
One past attendee said that the workshop is "Comprehensive—covered all the basic elements. Friendly, knowledgeable & patient staff—able to successfully integrate students of varying skill levels." Others have said that the material is very helpful for careers in film and video.
ABOUT VIDEOMAKER
Founded in 1986, Videomaker was the first magazine to introduce video to a mass, non-industry audience. Though the video field has exploded dramatically in recent years, Videomaker still remains dedicated to its core mission: to encourage aspiring directors and documentarians to use video technology to find their own voices and tell their own stories. Today, Videomaker is more than just a magazine. It's grown to also become a robust online community, offering a full line of training DVDs, videos-on-demand and a series of webinars and hands-on video training workshops. Every month, nearly half a million professional videographers, independent filmmakers, and home video hobbyists turn to Videomaker at http://www.videomaker.com to get the latest video scoops.