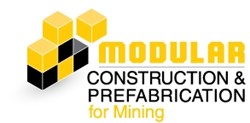 Toronto, ON (PRWEB) September 18, 2013
Mining IQ and IQPC today announced that Mammoet, the world's leading tailor-made heavy lifting and multimodal transport solutions specialist, will introduce its new messaging and logo at the upcoming event, Modular Construction & Prefabrication in Mining taking place 21-22 October, 2013, in Toronto.
The logistical challenges within the mining industry are growing daily. Factors such as remote locations, harsh climates and a strong emphasis on the environment are constantly driving the need for smarter and safer solutions. The Modular Construction & Prefabrication for Mining Conference is the only event dedicated to modular construction within mining and will present the latest case studies about how mining companies have implemented modular technology as well as share cross-industry knowledge from energy companies that already use these strategies.
"Mammoet is very excited to be a part of IQPC's Modular Construction & Prefabrication for Mining event this year. Mammoet has had extensive experience in Modular Construction, particularly in mining. We know that big improvements in construction efficiency are possible, leading to significant cost savings, if proper attention is being given to the engineered logistics challenges at an early stage. We look forward to sharing these experiences, with the rest of the group in Toronto." – Dan Thorne, Director of Business Development for Mammoet Canada Eastern Ltd.
Mammoet helps clients improve construction efficiency in order to optimize the uptime of their complex facility by providing innovative and safe solutions for transporting, lifting, installing and decommissioning large and heavy objects. The company is focused on the petrochemical and mining industries, civil engineering, power generation and offshore projects. Mammoet will be joined at the conference by the following additional sponsors:

VingCard Elsafe
Black Diamond Group
Overseas Lease Group
For more information:
Modular Construction & Prefabrication for Mining
http://www.ModConForMining.com
October 21 - 22, 2013
Toronto, ON, Canada