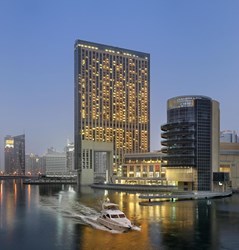 Santa Monica, CA (PRWEB) September 17, 2013
Coinciding with the United Nations International Day of Peace, Head Start for Higher Education seeks to foster intercultural understanding through education. The event will provide students with perspectives on educational systems around the world, including those in the United States, United Kingdom, Canada, and United Arab Emirates. Students will receive information about curriculums, colleges, application processes, financing, and visa application processes.
Head Start for Higher Studies will be held Saturday, September 21, at the Address Hotel at the Dubai Marina, United Arab Emirates.
"I believe that if we go beyond our comfort zones to study in institutions overseas, not only do we learn from different perspectives but we also share those of our own," said Rema Menon V, Director and Founder, Counselling Point Training and Development and organizer of Head Start for Higher Studies. "These experiences impact the students, their family, friends and the community as a whole. Greater understanding and cooperation among people is possible when such sharing takes place and I hope someday we will have peace."
"By hosting the seminar at the start of the academic year, families and students will be equipped with the tools to make those applications and get a head start," said Menon, who has organized the annual event for the past eight years. "We will also be distributing copies of the third edition of the handbook, 'Head Start for Higher Studies' so that they have the information necessary to make judicious choices," said Menon.
American Perspective
ArborBridge's Director of International Development Josh Stephens will be one of four featured speakers. A longtime educator and former college counselor, Stephens will offer an overview of the American university system and the intricacies of the process by which overseas students can identify prospective colleges and, ultimately, gain admission to them. Stephens also brings to the event a particular expertise in international education: on behalf of ArborBridge, he has visited over 100 high schools in 20 countries in the past year.
"The influx of overseas students to U.S. colleges is one of the most profound trends of the contemporary higher education scene. I deeply admire students who are willing to immerse themselves in a new culture and I can only imagine how exciting the experience must be for them," said Stephens, a Los Angeles native who attended Princeton University and Harvard University's Kennedy School for undergraduate and graduate school, respectively.
"It is an honor to help students understand the opportunities that the U.S. offers and to give them insights into how to choose their prospective colleges and to successfully navigate the application process," added Stephens.
According to Open Doors, in the 2011-12 school year, 309,000 international students were studying full-time at colleges and universities in the United States. That is a 6% increase over the previous year.
Stephens will speak about the vast array of colleges and universities in the United States and on the imperative for international students to do careful research so that they can take full advantage of the United States' unique, renowned approach to higher education. He will pay particular attention to the opportunities presented by the United States' most prestigious – and selective – universities, including those of the Ivy League. Stephens' former students have gained admission to all eight Ivy League schools, plus other top universities, including Stanford, MIT, Duke, Caltech, and the University of California.
"I am very happy that a representative of ArborBridge has volunteered to share his expertise on the application procedures in America with families here," said Menon. "I am sure the insights he shares will enable them to actualize their higher education plans. The Ivies are sought-after dream schools for most students in this part of the world. We are all looking forward to the event and the presentations."
Standardized Testing: ACT & SAT
Included in Stephens' talk will be a discussion of standardized testing, which is a required component of the application to almost every selective college and university in the United States. Conveying ArborBridge's approach to test preparation, Stephens will encourage students to prepare diligently – but efficiently.
"Many international students who are unfamiliar with the SAT tend to overestimate both the amount of material that it covers and its role in the US application process," said Stephens. "The SAT or ACT is important, to be sure. But efficient studying can enable students to achieve their target scores without dedicating weeks and months to it, the way they might to the Chinese gao kao, Brazilian Vestibular, or British A-Levels."
About Head Start for Higher Studies
When: Saturday, September 21, 2013 6p.m.
Where: Constellation Ball Room 2 & 3, 4th floor, The Address Hotel, Dubai Marina Mall
RSVP: counselling(at)adcb(dot)com
About ArborBridge
ArborBridge has helped hundreds of students from 18 different countries maximize their potential score on the SAT and ACT. Their students have seen SAT point increases exceeding 600 points and gained admission to top colleges like Stanford, Cal Tech, NYU, Columbia, Penn, and Georgetown. ArborBridge tutoring is live, one-on-one, and delivered online by elite American tutors using ArborBridge's proprietary SAT/ACT curriculum, specifically designed for online tutoring. ArborBridge was founded in 2011 by Tim Urban and Andrew Finn, who previously founded Launch Education Group, a premier in-person tutoring firm with offices in Los Angeles and Manhattan.