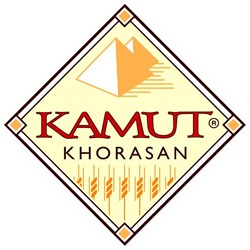 Missoula, MT (PRWEB) September 17, 2013
It may come as a surprise to know some of the points highlighted in Dr. Perlmutter's book "Grain Brain: The Surprising Truth About Wheat, Carbs and Sugar—Your Brain's Silent Killers," are similar to the philosophy and results of published research sponsored by Kamut International, promoters of the ancient, organic grain, KAMUT® brand khorasan wheat.
In "Grain Brain," the acclaimed neurologist and nutritional expert asserts that some of our most pernicious brain ailments and disorders, from headaches and ADHD to depression and dementia, are a reflection of one's dietary choices—specifically wheat which he says causes inflammation, the root cause of the maladies just listed.
As taken from page 8 of the book "Grain Brain", "…what we now call wheat bears little resemblance to the wild einkorn variety that our forebears consumed on rare occasion. With modern hybridization and gene-modifying technology, the 133 pounds of wheat that the average American consumes each years shares almost no genetic, structural, or chemical likeness to what hunter-gathers might have stumbled upon. And therein lies the problem: We are increasingly challenging our physiology with ingredients for which we are not genetically prepared."
These statements sound similar to something Bob Quinn, founder of Kamut International, would say, as he too is on a mission to educate about modified, modern wheat, how it has changed over the years and the impact it has on the body. However, "Grain Brain" has taken all wheat—whether modern, white, whole wheat, whole grain or ancient grain—and lumped them into one category, without separating and noting the benefits of ancient grains—in particular KAMUT® wheat, which does have research results demonstrating its anti-inflammatory properties.
"What I believe Dr. Perlmutter wants to emphasize, and I certainly agree with, is that our food shouldn't be a science experiment and actually the number of people suffering from chronic, non-communicable diseases has increased since the onset of many modern farming and food manufacturing methods," commented Dr. Bob Quinn, Ph.D., and Kamut International founder. "But that said, not all wheat is created equal. Neither is all gluten created equal. We have a research program in place for KAMUT® khorasan wheat to showcase the nutritional benefits, as well as try and explain why most of those with non-celiac sensitivities to modern wheat are able to digest KAMUT® khorasan wheat without difficulty."
KAMUT® wheat is organically grown and is a grain that has not been hybridized or altered like modern grains referenced in the book. According to studies, published in the January 2013 issue of European Journal of Clinical Nutrition as well as one now in the process of submission for publication, when compared to modern wheat, KAMUT® khorasan wheat shows benefits in protecting against oxidative stress and inflammation. In these studies, modern wheat produced little protection against oxidative stress and actually caused inflammation as asserted in "Grain Brain". It is unfortunate, however, that no exception for ancient grains was mentioned in the book. It may be that the published research is still so new that many have not heard of it yet.
As reported in the published study, "The major differences reported in the above-mentioned constituents were between the KAMUT® (wheat) and control flour, or the part of the diet involving the consumption of bread, biscuits and crackers. A significantly higher amylose/amylopectin radio, protein content, antioxidant activity as well as 2,2-diphenyl-1-picrylhydrazyl antiradical activity were apparent in the KAMUT® flour with respect to the control flour." This highlights the health benefits of KAMUT® wheat as it offers a higher nutritional content that could be effective in reducing metabolic risk factors, which are markers of oxidative stress and inflammatory status. The researchers found that there were various parameters relevant to cardiovascular disease in adults that showed improvement for some blood variables (such as potassium and magnesium) and metabolic biomarkers, including total cholesterol. Stand out results showed significant improvements of the inflammatory profile of participants.
Additionally, in "Grain Brain," KAMUT® is referred to as a generic variety, which is incorrect. KAMUT® is actually the brand name used to guarantee that the ancient khorasan variety of wheat that is sold under this name has never been modified and is always organically grown.
"It is important for consumers to become more educated on their food and where it comes from, but it needs to be known that KAMUT® wheat has a highly nutritious makeup and doesn't pose the same health issues that are represented in 'Grain Brain,' where there is a general condemnation for all wheat and all gluten," commented Quinn. "Actually I hope that KAMUT® can be the bright alternative to what is presented so strictly in this book, as people realize that they don't have to actually cut out all of their favorite wheat and grain-based foods, but only need to be very selective and substitute pure ancient wheat for modern wheat."
For more information on KAMUT® brand khorasan wheat or to set up an interview to discuss further with Dr. Bob Quinn of Kamut International, please contact Alana, Alana(at)adinnyc(dot)com, 212.693.2105 x309
About KAMUT® Brand Khorasan Wheat
The mission of Kamut International is to promote organic agriculture and support organic farmers, to increase diversity of crops and diets, and to protect the heritage of a high quality, delicious ancient grain for the benefit of this and future generations. KAMUT® is a trademark of Kamut International which guarantees high quality standards that are verified by tests from every field.
Sources:
1 Grain Brain: The Surprising Truth About Wheat, Carbs and Sugar—Your Brain's Silent Killers, Little, Brown and Company, September 2013
2 Characterization of Khorasan wheat (Kamut) and impact of a replacement diet on cardiovascular risk factors: cross-over dietary intervention study, European Journal of Clinical Nutrition (2013), 1-6