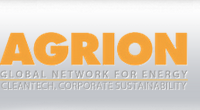 ...we occasionally release analysis to the broader industry to help professionals stay on the pulse of developments in the energy & infrastructure sectors
New York, NY (PRWEB) September 17, 2013
AGRION has released a complimentary, downloadable copy of the Capital Market Solutions for Renewable Energy & Energy Efficiency Financing report. This industry analysis will feature comments from PwC, RBS, Fitch Ratings, Chadbourne & Parke, and more.
The report will be accessible to interested professionals following the creation of a free AGRION profile. "Our reports are typically reserved for AGRION members, however we occasionally release analysis to the broader industry to help professionals stay on the pulse of developments in the energy and infrastructure sectors," notes Nicholas J. Davis, Managing Director, AGRION Americas.
With $35 billion in financing outlaid for projects in 2013, the investor landscape for cleantech finance is changing dramatically. Wind and solar technologies are projected to account for 6.7% of U.S electricity by 2025, reflecting a significant growth in the economic, environmental and social demand for clean, sustainable energy, yet not enough to achieve aggressive DOE targets. In this report, readers can expect to get an in-depth perspective on emerging financing mechanisms for solar, wind, and energy efficiency projects in the capital markets.
The report will cover various forms of capital being used to deploy resources for renewables – tax equity, asset-backed securities (ABS), master limited partnerships (MLP), real-estate investment trusts (REITs), and the advantages, challenges and risks associated with each. Readers will also be able to get a clearer understanding of the forces driving these investments in a market that is on the cusp of transformation.
AGRION provides a platform for members to connect, exchange ideas, and identify business opportunities. Through weekly meetings in offices around the world, AGRION members can determine critical business drivers, explore innovation, and realize sustainable growth in a world challenged by resource constraints, climate change, and evolving political landscapes. To learn more or create your own profile, visit http://www.agrion.org/inscription/.