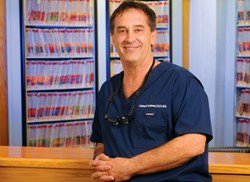 Bradenton, FL (PRWEB) September 17, 2013
Periodontist Dr. Lindsay B. Eastman gives new hope to Bradenton patients facing a future of traditional implants or dentures. Using the latest in dental science, Dr. Eastman can effectively and efficiently provide a new set of teeth in only one surgical appointment. Referred to as Teeth-in-a-Day, the process involves the placement of four implants to be used as the support for a fixed, removable prosthesis. Patients can get new teeth now with this improved implant procedure.
Traditional dentures leave patients susceptible to the loss of jaw bone density. Over time, this erosion of bone, called resorption, can lead to a sunken look of the jaw and painful misalignment. The ability to place some dental implants to hold a denture helps jawbone to be maintained, because the titanium posts actually fuse with the bone, providing solid stability for the prosthesis and preventing the resorption.
Teeth-in-a-day is essentially a blend of implant and denture processes and technologies designed to offer patients needing full-mouth restorations an affordable and simple option to get their smile back. It also offers an option for patients that may not otherwise qualify for implants due to an insufficient amount of bone. Because only four implants are needed, the entire process is simplified. Whether implants or dentures are the concern, patients can benefit from the Teeth-in-a-Day procedure.
The prosthesis placed in this manner offers far greater stability than previous techniques. The implant posts hold the denture securely in place, allowing patients the freedom to eat, chew and talk completely normally. There is increased comfort and longevity.
More people today are seeking alternatives to the classic problems associated with dentures and also want to prevent the long-term effects of missing teeth. Dr. Eastman delivers all of that with this technology and service. People looking for solutions to their tooth loss are invited to contact Dr. Eastman or stop by his office to learn more about how he can give them new teeth now.
About The Doctor
Lindsay B. Eastman, DDS, MS, PA is a periodontist offering patients personalized dental care in Bradenton, FL since 1980. Dr. Eastman received his Doctor of Dental Surgery degree from Loyola University Dental School where he completed his Graduate training in Periodontics and his Masters of Science in Oral Biology. He received his Post-Graduate specialty training in Surgical Placement of Implants from Northwestern University Dental School, and completed Business Management Training from Pride Institute. He is part of one percent of dental professionals providing the most recent FDA cleared laser procedure for gum disease and periodontal treatment. To learn more about Dr. Eastman and his dental services visit his website at http://www.bradenton-periodontist.com and call (941) 792-3899.