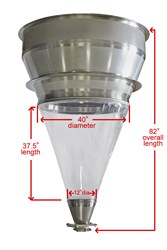 Minneapolis, MN (PRWEB) September 17, 2013
Minnesota-based Powder Solutions, Inc., a leading U.S. distributor of the BFM® fitting, announces the newest application of the revolutionary BFM® fitting. The latest design features a tapered end which functions as a small hopper.
The featured BFM® fitting hopper answers a call from Powder-Solutions customers to create a BFM® fitting allowing for increased visibility of the powder product and ease of cleaning. The innovative application of the BFM® fitting is designed for 'surge' bins when visual indication of flow and volume are critical to operations.
Ideal as an interface between production and packaging or between wet and dry processes, the BFM® fitting hopper can either be cleaned in place or removed for cleaning.
With their newest application, Powder-Solutions Inc. continues the drive to provide bulk powder processing solutions while increasing the safety and efficiency of plants. The BFM® fitting replaces old-school flexible sleeves held with hose clamps, guaranteeing a leak-proof operation.
With standard industrial hose clamps and flexible connectors, overpressure incidents in processing lines can lead to potentially dangerous situations. The BFM® fitting snap-in installationseals even tighter than traditional hose clamps, eliminating concerns of leaking and increasing worker safety.
As an American distributor for the USDA accepted/3A certified BFM® fitting, the project managers at Powder-Solutions, Inc. can customize a BFM® fitting system to address a variety of bulk powder processing issues found in the food processing, pharmaceutical, and chemical industries. The featured design is ideally suited for allergen products.
About Powder-Solutions, Inc.
Powder-Solutions, Inc. is a leading distributor of the BFM® fitting, specifically designed to replace the standard sleeve and hose clamp assembly found in the bulk powder processing industry. By working closely with companies in the food, dairy, nutritional, pharmaceutical, chemical and other industries, Powder-Solutions, Inc. continues to develop and refine strategies to assist these companies in addressing sanitation and safety concerns by designing and managing plant processes to run efficiently and profitably. For more information on Powder-Solutions, Inc. or the revolutionary BFM® fitting, visit http://www.powder-solutions.com.