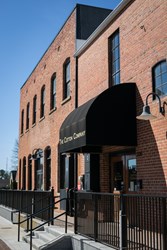 Wake Forest, NC (PRWEB) September 17, 2013
The Cotton Company is holding an open call for artists interested in being featured inside The Cotton Company Art Gallery for an Art After Hours Exhibit. Artists must submit their application and samples from a digital art portfolio by Nov. 15th in order to be considered during our jury process. Artists must have an established portfolio, a desire for exposure in the local artist community and a desire to sell their work on a commission based system. The Featured Artists are selected by The Cotton Company Resident Artists and Management Team and our 2014 calendar will be slated by December 15th 2013. Selected Artists must be available to hang and remove their exhibits on specified dates and they must be available to attend the Artist Reception held during Art After Hours.
The Cotton Company is a Boutique Marketplace Shopping Destination and Art Gallery in the heart of Historic Downtown Wake Forest. With over 50 individual businesses and artists, we strive to support local small businesses and drive the entrepreneurial spirit of the vendors who reside inside.
For more information or to receive an application call: 919-570-0087
Or email: events(at)thecottoncompany(dot)net
Beth Jarvah, Director of Marketing and Events
http://www.thecottoncompany.net