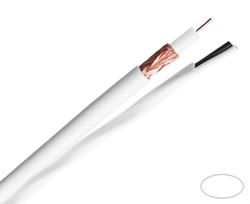 Wildomar, CA (PRWEB) September 17, 2013
Primus Cable, a leading distributor network cable and electrical components, offers a premium selection of plenum-rated, fire-resistant coaxial cables. With fluctuating climate conditions and fire season just around the corner, many electricians and network professionals require extra protection against serious hazards. These cables are designed for plenum areas in residential and commercial installations and most importantly, feature fire-resistant attributes. In the event of a fire, plenum-rated cables emit less toxins and smoke compared to typical, non-plenum coaxial cables.
Plenum cables can be routed in spaces typically used for heating and air conditioning systems. While these spaces offer a ready-to-route environment, they also pose significantly higher fire risks than other installation areas. Given these potential hazards, Primus Cable has many popular plenum rated, fire-resistant coaxial cables, including:
RG59 Siamese CCTV Coaxial Cable, 95% Braid
This cable is engineered for A/V signals, closed circuit television (CCTV) transmission, radio frequency (RF) signals, and more. Plus, it also has 95% braid coverage for superior signal integrity.
Sold in a 1000-foot spool, Primus Cable's RG6 18 AWG CATV Coaxial Cable features 60% aluminum braid shielding, aluminum PET foil shielding, 18 AWG BCCS conductor and is fully sweep-tested to 3GHz.
RG6 18 AWG Siamese Coaxial Cable for CCTV
Ideal for CCTV applications, this RG6 18 AWG Siamese Coaxial Cable boasts 95% braided shielding, a stranded power cable and is UL, ETL and RoHS compliant. This coax cable works well with security and surveillance systems.
This 1000-foot spool can be used for everything from indoor plenum areas to outdoor TV antennas. It's also a popular choice for digital satellite installations. Signal retention is ensured with 70% + 55% aluminum braid coverage.
Plenum-rated cable is idea for the dry and severe weather. As temperatures fluctuate outside, buildings focus on regulating climates inside. This typically means extra forced airflow in plenum areas. Primus Cable's plenum-rated, fire-resistant coaxial cables make a smart investment for installations and upgrades.
The company's plenum-rated coaxial cables give regional homeowners and businesses an advantage. Because these cables produce less smoke and toxins than regular cables, they're ideal for Southern California conditions – specifically, the constant threat of sporadic, widespread fires. Plus, as the colder winter months approach, plenum-rated coaxial cables are better suited to handle harsh, tough climates and constantly changing weather conditions.
Note: Riser cables lack the fire-resistant properties of plenum-rated cables. As such, plenum cables can always replace riser cables, but riser cables can't always replace plenum cables.
A trusted source of UL listed and ETL verified bulk cable, Primus Cable features a wide range of network cable and other electrical components for homeowners, businesses, network administrators and more. Primus Cable is also a preferred supplier of networking, fiber, security and home A/V products.
Primus Cable offers a distinct technological benefit from other American cable companies. The company features a well-rounded brand lineup, affordable prices and quick turnaround for deliveries.
About Primus Cable
With decades of cumulative experience in the industry, Primus Cable is a leading supplier of wire, cable, keystone jacks and interconnection products, servicing the electrical, electronic, and communication industries. To learn more, call 951-824-1571.