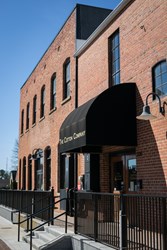 Looking good does not have to be expensive.
Wake Forest, NC (PRWEB) September 18, 2013
The Cotton Company of Wake Forest is excited to partner with other local business in the Historic Downtown District to offer a Ladies Night experience that will start the shopping season off with a bang.
A Ladies Fall Fashion Show is the perfect way bring local businesses together and give the Wake Forest Community a fun event to enjoy in the Historic Downtown District. The Cotton Company is well known for hosting over 50 local businesses including a wide variety of ladies fashions and accessories. Our neighbors, Next Consignment Ladies Boutique and Mimosa Home & Gifts are getting on board and providing a variety of beautiful and affordable ladies fashions for a Runway Show this Friday starting at 6pm. We are taking it over the top with an experienced Emcee from Island Sound DJ's and the models will be showcasing a variety of clothing and accessory options as well as trending hair and makeup styles by another neighbor Salon One21 Color Bar.
"Enjoy Shopping Again" is not just a slogan for The Cotton Company, it is an entire way of thinking that shapes the way we produce events for the community. We've partnered with a local bakery, Sweet Traditions by LeAnn, to be able to offer a delightful experience for the sweet tooth outside and inside we will be serving a selection of refreshments from samples of our house wine to delicious pink lemonade. Fun Music, Fun Foods, and Fabulous Trending Fashions round out an evening perfect for ladies of all ages. With the help of these other local partners, we will be showcasing affordable and designer fashions from easy to wear casual options to beautiful holiday party dresses. New to the runway this season will be a complete selection of options for "Accessorizing the Basic Black Dress." Looking good does not have to be expensive.
The Cotton Company is a Boutique Marketplace Shopping Destination and Art Gallery in the heart of Historic Downtown Wake Forest. With over 50 individual businesses and artists, we strive to support local small businesses and drive the entrepreneurial spirit of the vendors who reside inside.
For more information, call: 919-570-0087
Beth Jarvah, Director of Marketing and Events
http://www.thecottoncompany.net