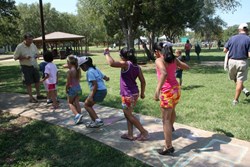 "Parents must realize that a small change is better than no change at all and come up with creative solutions to meet their children's need for healthy meals and exercise. " - Dr. Marta Katalenas
(PRWEB) September 17, 2013
Dr. Marta Katalenas of the Pediatric Center of Round Rock will be hosting the second annual Kids Fitness Fun Day, this Saturday, September 22, 2013 in partnership with the Round Rock ISD Council of PTAs in an effort to bring attention to the childhood obesity crisis that affects over 23 million children in the United States.
Kids Fitness Fun Day began in September of 2012 in an effort to bring attention to the growing epidemic of childhood obesity and to bring families and local businesses together to support healthy lifestyles. Paige Balius, Healthy LIfestyles Chair for the RRISD Council of PTA's says "Healthy habits, like daily physical activity, are best formed during childhood. Healthy kids are better learners who grow up to be more successful adults."
September is Childhood Obesity Awareness Month and Dr. Katalenas hopes to encourage parents and children to become more active and engage in healthy lifestyle activities. The Kids Fitness Fun Day event will feature "station challenges" hosted by local healthy lifestyle businesses where kids can earn a silly band for each station completed and be awarded a Kids Fitness Fun Day ribbon.
Station challenges include activities such as frisbee, yoga, martial arts, rugby and more. Kids will also be able to participate on stage with dance groups and martial arts demonstrations. Each station challenge is at a basic fitness level suitable for all ages and designed to teach children fun activities that they can also do at home.
Dr. Marta Katalenas is a member of the RRISD Student Health Advisory Committee, and a public speaker and author on the subject of childhood obesity. Her book, released in 2012, "The Step Up Diet", promotes an easy three-step plan to help transform the whole family's eating habits. In the book, Dr. Katalenas focuses on the principles of quality, quantity, and timing to help guide decisions on what to eat, how much to eat, and when to eat a meal.
"Parents must realize that a small change is better than no change at all and come up with creative solutions to meet their children's need for healthy meals and exercise. The good news is that children respond much better than adults to lifestyle changes," says Dr. Katalenas.
Kids Fitness Fun Day is sponsored by Dell Children's Medical Center, Mix 94.7, First Texas Bank, Aim and Focus Karate, Medspring Urgent Care, Foot Associates of Central TX, Terri Romere, Broker Associate for Keller Williams Realty, Champion's Way Tae Kwon Do, The Little Gym of Round Rock, Baseball Chi, Fleet Feet Sports, Rose Dental Group, i9 Sports and Rock Chiropractic.
To find out more about attending Kids Fitness Fun Day this Saturday and how you can have one in your own community, visit http://www.KidsFitnessFunDay.org.