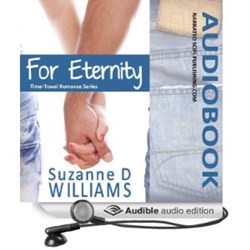 An unforgettable story
(PRWEB) September 18, 2013
SciFi Publishing is pleased to announce the release of its newest scifi audiobook, "For Eternity (Time-Travel Romance)" by Author Suzanne D. Williams now available as an Audiobook on Amazon, Audible and Itunes.
About For Eternity
In "For Eternity" Emily accidentally walks through a mysterious doorway and 30 years into the future. She soon realizes she is not the only one that has been traveling through time, with others secretly time traveling to gain money and power. As she searches to find a way back to her own time, she unexpectedly falls in love…Emily finds herself torn between two worlds once with her friends and family and a new one where feels she has found the one she is meant to be with. At that same time those that have been using the doorway are working to find a way to destroy her.
What People are Saying
5.0 out of 5 stars "A great love story with a time travel twist!"
5.0 out of 5 stars "I had an awesome time reading this book!"
5.0 out of 5 stars "What a great book!"
About the Author
Suzanne Williams is a native Floridian, wife, and mother, and graphic designer, who writes both nonfiction and fiction novels. Fans can connect with her on Facebook
About Sci-Fi Publishing
Sci-Fi Publishing enables authors to bring their work to life, creating powerful audiobooks for Sci-Fi fans. We partner with authors from audiobook production to marketing so they can continue to focus on their passion, creating new and amazing worlds.