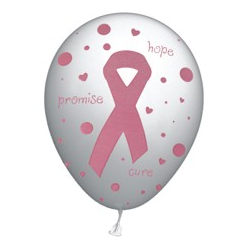 Chicago, IL (PRWEB) September 18, 2013
October is Breast Cancer Awareness Month, an annual campaign organized by various breast cancer charities and organizations in order to raise awareness, as well as collect funding for research, treatment and finding a cure. Throughout the month of October, there are many charity events and fundraisers that allow women, and men, to come together and support those who have been affected by breast cancer. In honor of that, online Chicagoland party supplies retailer, Windy City Novelties, is holding a sale on all pink ribbon products.
Windy City Novelties' Pink Ribbon Sale will begin on Wednesday, September 18th so individuals are able to place orders and receive merchandise in time for Breast Cancer Awareness Month to begin on October 1st. The sale will continue for five more days and will terminate by the end of the day on Monday, September 23rd. During this time, customers will receive a 20% discount on all products within the Pink Ribbon product category—this includes any pink decorations, party supplies or accessories.*
Through the sale, customers will be able to find pink accessories to wear to various fundraising or awareness events that will take place throughout the month of October. Races or walks are a very popular fundraising event, in which participants typically dress in pink clothing or accessories. Windy City Novelties' pink accessories include headbands, hats, sashes, bracelets, necklaces, sunglasses, and more.
Also included in Windy City Novelties' Pink Ribbon Sale are pink decorations that can be used to decorate charity events. Decorations include a pink carpet runner, pink paper lanterns, pink garland and other hanging decorations, along with decorations that have pink ribbons directly printed on them. Pink paper good products—such as paper plates, napkins, cups, table covers and skirts--are available for when serving food and beverages at such charity events.
Some of Windy City Novelties' pink ribbon products such as invitations and banners can be customized with a particular message, organization or individual's name and/or picture. In order to do so, customers must add their customized text or photo to the product when purchasing online.
In order to receive the 20% discount, individuals must visit the retailer's website at windycitynovelties.com and search for pink ribbon products under the Special Occasions category in the Shop By drop box on the left side of the site. From there, customers can proceed to click on the Pink Ribbon Events category button and shop for desired pink items. The 20% discount will reflect in the total amount upon placing the order.
*Some restrictions may apply. See website for more details: http://www.windycitynovelties.com.
About Windy City Novelties
Windy City Novelties, a party supply company founded in 1983, is known for their great selection and competitively priced items. They have an A+ rating from the Better Business Bureau and are also a NexTag 5 star Seller. From their website, they offer fast and friendly shipping along with great customer service. From glow sticks in every color of the rainbow, to party decorations in a variety of themes, and even a vast selection of adult and kids Halloween costumes at the best prices, Windy City Novelties has over 15,000 products and adds more each week. Windy City Novelties also provides party and gift ideas and advice. For help or more suggestions, email our experts.