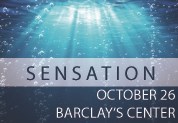 'We are thrilled that this world renowned party realizes that Brooklyn is a style mecca worthy of an international stage,' said Javier Egipciaco, general manager of NU Hotel Brooklyn.
Brooklyn, NY (PRWEB) September 17, 2013
Fabulously dressed concertgoers in all-white attire will head to Barclays Center on October 26 for Sensation, an international dance event with a strict dress code: all white, head-to-toe. In anticipation of the event, NU Hotel, a Brooklyn boutique hotel located just down the street from Barclays Center, is hosting a photo contest on social media platforms for the best 'Sensation'al photo.
Be it the most stylish all-white ensemble, a group of friends enjoying the event or a great crowd shot of the event, NU Hotel Brooklyn's photo contest seeks to find the most 'Sensation'al photo through the platforms of Facebook, Twitter or Instagram. The winner will receive a free overnight stay for next year's Sensation. To enter the contest, attendees should submit their photos via NU Hotel Brooklyn's Facebook page. Attendees can also submit photos via Instagram and Twitter by tagging their photos with #nusensation and mentioning @Nuhotel. The winner will be announced on October 28.
"We are thrilled that this world-renowned party realizes that Brooklyn is a style mecca worthy of an international stage," said Javier Egipciaco, general manager of NU Hotel Brooklyn. "It's a lot of little details all together that make something spectacular. NU Hotel and Sensation have a similar appreciation for the big-picture, which is why we are looking for one 'Sensation'al photograph to celebrate this link."
Sensation began in the Netherlands 13 years ago and now travels to 22 different countries around the world. Sensation first visited the U.S. last year with two shows at Barclays Center. This year, the international dance party is hosting its first U.S. Tour, visiting four cities: San Francisco, Las Vegas, Miami and New York. Brooklyn is the final destination of this spectacular event on October 26. All guests must be 21 years of age or older to attend and white attire is mandatory.
Hosted by Mr. White, Sensation presents a DJ line-up of international acclaim. Other DJs include: Dutch house legend Fedde le Grand, UK-based Nic Fanciulli, Michael Woods, Prok & Fitch, French techno innovator Sébastien Léger, Sunnery James & Ryan Marciano and MC Gee. The event is famous for its DJ line-up as well as "The Mix," which is the exciting climax in which the music itself and the attendees are the stars. With "The Ocean of White" theme, Barclays will be transformed into a water wonderland. The ocean spectacle will explode to the beat of the music as running water streams through a raised canal and numerous fountains are placed throughout the arena.
This entire spectacle makes for a photogenic event. The six-hour electronic music spectacular will include many moments that concertgoers will want to remember the morning after and beyond — NU Hotel Brooklyn's photo contest allows Sensation attendees to capture the memories while vying for an overnight stay in the heart of Brooklyn for next year's party.
About NU Hotel Brooklyn:
NU Hotel is inspired by the dynamism of Brooklyn and an urban style apartment. The Brooklyn boutique hotel offers modern, simple design, luxury amenities and exceptional service at the center of four great neighborhoods: Cobble Hill, Boerum Hill, Park Slope, and Carroll Gardens. NU Hotel is a member of the Independent Collection.
About The Independent Collection:
The Independent Collection is a growing collection of smaller, more intimate boutique lifestyle hotels located in truly unique neighborhoods of gateway cities across the US. The collection is founded on the principles of authenticity, leadership, generosity, and modesty. Hotels of the Independent Collection are created for the independently minded traveler.
About HHM:
HHM, formerly known as Hersha Hospitality Management, operates 115 hotels across the United States. It provides turnkey hotel management, asset management and receivership for properties with leading brand affiliations through Marriott, Hilton, Hyatt, Starwood, and Intercontinental Hotel Group. HHM also operates 14 independent hotels ranging from the AAA Five Diamond Rittenhouse Hotel in Philadelphia, to the oceanfront Postcard Inn in the Florida Keys. Its highly experienced team is accustomed to serving as a fiduciary to publicly traded companies, joint ventures, institutional real estate owners and private investors. Additional information on HHM can be found at hhmhospitality.com.
For further information, please contact NU Hotel Brooklyn at (718) 852-8585, http://www.nuhotelbrooklyn.com. For further press inquiries, contact: Mary Gollhofer at (267) 238-5025, mary(dot)gollhofer(at)hhmlp(dot)com.