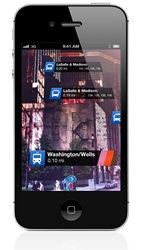 "This AR capability drives business by giving companies the resources to present data in a highly interactive format."
Chicago, IL (PRWEB) September 19, 2013
Promet Source is pleased to announce that our geo-location Augmented Reality framework and module is now available free-of-charge to web and mobile application developers. Promet's Lead iOS Developer built the iOS framework,PRAugmented Reality, and the Drupal module, Mobile AugmentedReality Communication. Both of which are licensed under the General Public License (GPL).
PRAugmentedReality is code for developers to enable Augmented Reality within their applications. This framework expedites development; the extensive programming and math for Augmented Reality is already complete and ready to for use. Once the framework is installed, developers connect it to a database of geo-locations (e.g. addresses of stores, homes, buildings, offices). Augmented Reality will be displayed on mobile devices. For example, CTAR (Chicago Transit Authority Augmented Reality App) was developed with this framework. Users point their phones in the direction of travel; the app displays the transit stops in close proximity and their arrival/departure times.
Promet Source and many other leading web development firms specialize in Drupal CMS. Therefore, it was necessary that PRAugmentedReality be able to communicate with Drupal to extract the location data. Promet's Lead iOS Developer created Mobile AugmentedReality Communication (also known as Mobile AR) to satisfy this demand. Now, the framework is available for use for iPhone/ipad developers and Drupal developers. Companies with Drupal sites now have the opportunity to easily feature AR in their mobile sites.
Both the framework and the module have already been well-received by the public. The iOS framework, PRAugmented Reality is regarded as the most scalable and customizable AR Framework within the industry. The Drupal module, Mobile AR is in such demand by Drupal developers, Drupal.org has included it in their distributions. The inclusion into Drupal distributions allows users to quickly set up the module in fewer steps than if installing and configuring elements individually. That is, the framework comes with an out of the box connector to a Drupal install profile. The distribution also provides a demo of the Mobile AR features.
Promet Source recognized that the mobile development market needed geo-location Augmented Reality frameworks that were based on user location & movement, as opposed to Image Recognition AR which makes images interactive. The applications for geo-location AR are endless: transit, virtual tours, store locators (e.g. "coffee shops"), event navigation and more.
Promet Source used the framework for the development of the aforementioned CTAR (Chicago Transit Augmented Reality) App. The five star iOS application (available on iTunes) has over 1500 users and allows Chicagoans to find nearby train & bus stops and their estimated times of arrival. WGN-TV dubbed CTAR as one of the best transportation apps. Currently, Promet Source is using PRAugmented Reality and our new Drupal module to develop a virtual tour for Grinnell College. This app will enable prospective students to explore the campus independently and learn about nearby buildings - all from their mobile devices. Promet Source has also noticed a trend of clients requesting this feature. "Clients in almost every industry like Consumer, Transit, Higher Ed, Event Management, etc understand the value of interacting with their customers and the ability to guide their users to various locations," said Geoff Lesage, Promet's Lead iOS Developer.
"Promet Source is proud to contribute free, open source tools to the development industry - especially tools that are in high demand. It is our mission to help developers in and out of Promet Source to create web and mobile applications that are of the highest caliber. This AR capability drives business by giving companies the resources to present data in a highly interactive and relative format; it's that kind of impact that makes Promet Source a responsible industry and Drupal community leader." - Andy Kucharski, President & Founder, Promet Source
ABOUT PROMET SOURCE:
Founded in 2003, Promet Source is a leading interactive development agency that implements open source tools (specifically Drupal) to deliver high-value web and mobile application development & support. Promet offers a turn-key solution delivered by experts in the field: sprint 0 planning (Agile concept development), design, architecture, development and deployment. After deployment, Promet provides ongoing support & maintenance. Our consultants have deep technical expertise and are recognized as leaders within the Drupal community. Promet serves clients globally across multiple industries-specializing in government, higher education, non-profits, start-ups, healthcare and professional services.