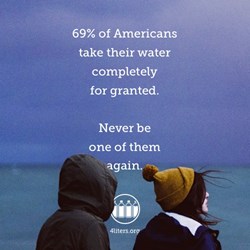 The challenge exposes Americans to the true value of clean water and provides them with a deeper connection to projects combating water poverty worldwide.
Los Angeles, CA (PRWEB) September 17, 2013
A staggering 783 million people worldwide do not have access to enough clean water to live a full and healthy life. Human beings need at least 4 liters (the equivalent of 2 large soda bottles) of water a day to survive and require closer to 50 liters a day to stay healthy in the long term. While nearly a billion people survive on just 4 liters of water a day or less, the average American uses up to 550 liters of water every day, the highest water consumption rate in the world.
"Access to clean water is a basic human right," states George McGraw, Executive Director, DIGDEEP Water. "Here in the U.S., we consume so much water with such easy access, that we often forget water's importance to human lives and livelihoods. Even in the U.S., nearly 13% of Native Americans lack clean water or working toilets. Water poverty is more prevalent in under-developed countries; 4,500 children die every day from water borne diseases and nearly 80% of disease worldwide stems from dirty water. But this is a crisis that affects everyone, and it's time we find the perspective we need to take action."
The 4Liter Challenge (4Liters) is a way for anyone to experience the daily struggle of living on a limited amount of water. The challenge exposes Americans to the true value of clean water and provides them with a deeper connection to water access projects combating poverty worldwide. People are encouraged to sign up at http://www.4liters.org, an interactive web tool that will help them fundraise, live-blog and share their experiences across social networks. 4liters.org also offers a free multi-disciplinary curriculum for middle and high school educators, bringing themes of water poverty and human rights into the classroom.
One hundred percent of funds raised will be sent to DIGDEEP water access projects in South Sudan, Cameroon, and New Mexico. These sustainable projects are built in partnership with local communities in tremendous need. DIGDEEP's human rights-based model varies from the work of other water charities by using sustainable technology for its water projects and customized, community-led solutions to achieve basic human rights such as health and safety, gender equity, economic empowerment, and prosperity.
Participants and schools are welcome to learn more about water poverty and take The 4Liter Challenge by signing up at http://www.4liters.org. The site also features an informational video featuring David Henrie (Wizards of Waverly Place), Jennifer Cadena (The Roommate) and narrated by Drake Bell (Drake & Josh). All participants will live off of 4 liters of water per day for 2-5 days the week of October 14th (October 14 - October 21, 2013). 4Liters aims to transform public perception of water, water consumption and its value and impact on human life. For more information on DIGDEEP, please visit http://www.digdeepwater.org.
About DIGDEEP Water
Launched in 2011 by international human rights lawyer George McGraw, DIGDEEP is a human rights organization defending and sustaining access to clean water for everyone worldwide. Changing the way people think about water, DIGDEEP focuses on education and advocacy programs exposing people to the issues and solutions of water poverty, consumption and conservation. Through its sustainable and customizable water access projects DIGDEEP has successfully transformed the lives of thousands of people in South Sudan, Cameroon and the Navajo Nation in New Mexico. DIGDEEP is committed to ending the injustice of water poverty and 100% of all donations support their water projects in the field. To learn more, visit http://www.digdeepwater.org.