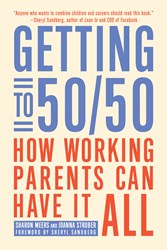 Finally! A book about two-income families that speaks the truth and provides solid advice. Every working mom needs to read this book... twice.—Lois P. Frankel, Ph.D., author of Nice Girls Don't Get the Corner Office
(PRWEB) September 17, 2013
Sharon Meers, co-author of the upcoming Getting to 50/50: How Working Parents Can Have It All, writes a provocative argument in favor of dividing work and parenting equally between parents for The Guardian.
As Meers points out, despite the common assumption that women have gained complete equality, "in 2013, on both sides of the Atlantic, women fill fewer than 15% of leadership roles. And they're still paid less than men for similar work." Meers argues that many women are actually happier working than staying at home, as borne out by studies of depression and anxiety in stay-at-home parents. She concludes that "true 50-50 equality makes women happier and work teams more productive."
Sheryl Sandberg, forwordist for Getting to 50/50 and author of the national best-seller Lean In, strongly advocates this 50/50 split in a Yahoo Shine article on whether or not working women can really have it all.
For more information about Getting to 50/50, visit the official site here.
What people are saying about Getting to 50/50:
"Finally! A book about two-income families that speaks the truth and provides solid advice. Every working mom needs to read this book... twice."
—Lois P. Frankel, Ph.D., author of Nice Girls Don't Get the Corner Office
"Getting to 50/50 presents a solid business case for gender-equal workplaces and families, and then helps us realize how wonderful this solution is for relationships as well."
—Marc and Amy Vachon, authors of Equally Shared Parenting: Rewriting the Rules for a New Generation of Parents