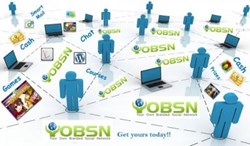 Publicity, publicity, publicity is the greatest moral factor and force in our public life.Joseph Pulitzer
Henderson, Nevada (PRWEB) September 17, 2013
Smart Media Technologies' new Social Network YOBSN (Your Own Branded Social Network), has an opportunity for Internet merchants worldwide to get publicity for their website at no cost. While they do not offer free advertising it can be a great way for Internet merchants to raise awareness about their businesses as well as bring more traffic and business to their websites.
YOBSN is a new kind of social network that shares its advertiser revenue with its end users. When people install the YOBSN dynamic bar on their computer, it creates a bar at the bottom of their browser screen. This bar can be made visible or invisible with the simple click of the mouse. Whenever it is visible they have instant access to all of the great features of YOBSN regardless of any website they are on. It even gives the user access to tons of great things at zero cost like University and computer courses, games, bargain shopping, videos, music, movies, smart mail, smart chat, smart chirp, YOBSN Social Network and so much more. Just 1 to 2 mouse clicks on any website they are on will instantly give them access to it all. While the dynamic bar is non-intrusive, if the user wants to have full view of their screen, one mouse click will make it invisible.
Whenever the dynamic bar is visible, a small banner will show in the bottom right hand side of their screen. If the user finds the banner interesting and clicks on it for more information, the user will earn social points. Users can also earn social points from other things such as referring their friends to YOBSN, playing games or other social-type activities on the social network. Users can also win cash and prizes playing games or clicking on the daily, weekly and monthly prize boxes. Users can also win matching cash and prizes in some of the games when one of their friends they have referred wins.
Sharing Ad Revenue with the world is not as easy as it might seem. While YOBSN has just launched, it already has well over 1 million users. There is really no feasible way to pay such a huge number of people monthly let alone all the news ones who will come on board. And so that is why Smart Media developed Social Points. Social Points can be used to purchase both physical and digital products worldwide. This is where the no-cost publicity comes in. Internet merchants who offer gift vouchers for their online stores have an opportunity to have their gift vouchers offered in the YOBSN Social Points store. This offers a win-win for the merchant and the YOBSN user.
The YOBSN store will be offering over 1 million physical and digital products and services. Since YOBSN is available to anyone anywhere in the world this can create some issues in regards to the physical products. There would be no way to automate the calculations of things like import tax and shipping costs to so many diverse locations. In many cases purchasing an item from outside the receivers' own country can end up costing them more in shipping and handling than the item itself actually costs. The option of gift vouchers helps to solve this problem. Through gift vouchers, users can simply use their social points to buy gift vouchers for merchants in their own country.
The approved Internet merchants get the no cost publicity, additional web traffic and business when YOBSN owners are looking to spend their social points. Users go to the YOBSN store regularly to see what kind of new items are available for them to purchase with their social points and look for vouchers for things that they can buy in their own country. Users will even go there frequently before they have enough social points so they can plan for their future purchases and calculate how many social points they will need to purchase them.
To learn more about Smart Media Technologies please visit http://smartmediaplay.com/.